We are currently booking events for 2016 and 2017. To inquire about scheduling Heather for your organization, please follow the steps below and we will get back with you within 1-2 business days.
Check the workshop selection list and the pricing terms to be sure a booking will work with your requirements.
Fill out and submit the booking request form with as much information as possible. We will email you back within a day or two to further discuss.
Click here for Workshop & Class descriptions with photos.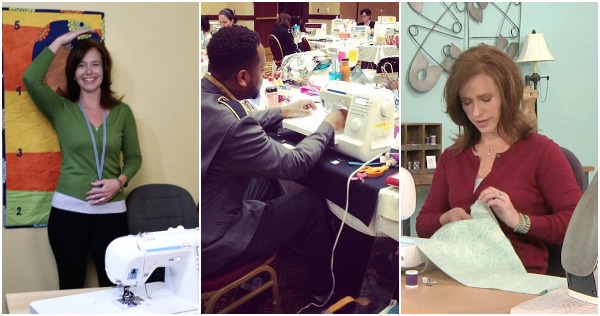 Other requirements for teaching and speaking engagements:
For any lecture, talk, or demonstration event the shop will need to provide a standard projector set-up, a table for me to use in my presentation, and a demonstration sewing machine (where applicable, if this is a hands-on demonstration).
I will provide any printed handouts for the students as part of the workshop fee.
The shop or event coordinator is responsible for paying all teaching fees & travel expenses for any teaching or speaking engagement. This may include travel and lodging for the day before/after an event, depending on the timing. Teaching fees are to be paid on the last day of the event, before I leave.
I am willing to travel to local events in my own car. If your event fits into those parameters, the travel costs will be 57 cents per mile, according to the current IRS rates.
For any event requiring air travel, I will make all travel arrangements and the event coordinator or shop owner is expected to reimburse me within 5 days of booking.
The event coordinator is responsible for securing a nearby hotel room for the duration of any event that is overnight or a full day. (In a full-day situation the timing may require overnight lodging the night before and the last night of the event itself.) The room needs to be non-smoking with free Wi-Fi.
The event coordinator is responsible for providing all of my meals OR paying the per diem rate specified by the US Government for your area (found HERE). Meals are to be covered during all travel and actual event teaching time.
Heather would love to come and share her expertise & enthusiasm for sewing with your customers! Please contact us if you have any special requests or you'd like to book an engagement.
Find out more …
Sign up here to be kept up to date on my sewing classes, workshops and lectures.