Pinterest is one of my favorite playgrounds for creative inspiration! You can find pretty much anything from hairstyles to wooden sculptures and everything in between….. including all things sewing!
One of the best parts about Pinterest is the creation of boards. Think of these as your personal bulletin boards of goodness! That's right you can find things from all over the internet and save them in one place for easy bookmarking. For me, these boards have for ever changed my not so organized stack of magazine tears.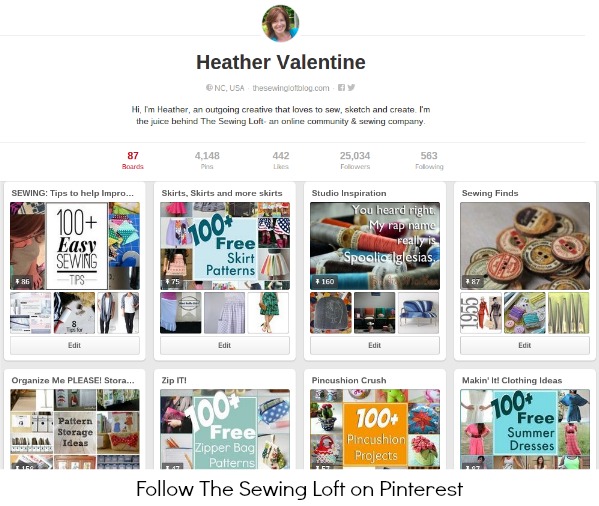 That's right, those piles of paper have officially been replaced with these 80+ boards of visual inspiration. (yes, I said 80+. You didn't think Pinterest would actually cure me of collecting did you?) Once you have your boards all set up, it's time to start pinning. Now, my boards range from family, to sewing with even cooking in between. The sky is the limit.

MY LATEST VIDEOS
It's really that simple. So the next time your teenager needs a funky hairdo for a theme party, head on over to Pinterest and search away. You will instantly see images and find the perfect match for you event.
But don't stop there, you can follow all your favorite peeps there too. That's where our page comes in.  Be sure to follow The Sewing Loft on Pinterest and see just what cool things we discover. We promise to keep you overloaded with sewing tips, fun projects and industry finds.


Hello! Are you new to The Sewing Loft?

If so, I'm glad you stopped by and hope that something has inspired you to keep your needle moving! Don't miss a single project and subscribe via email HERE! Bonus- free printable template with newsletter sign up.  Another great way to connect with me is via Facebook, Pinterest, Instagram, Google+ or Follow along with Bloglovin.  I'm looking forward to getting to know you and creating together!