Since, I'm starting to branch out more and meet up with local sewing groups, I thought it would be fun to create a little zipper bag to carry all my tools.  This bag stitched together quickly and used supplies I already hand on hand.
Zipper Bag
This project is for all levels.
Skill Level- 1 Button
Materials:
Pattern:
**Note: the embroidery design was stitched before the pattern pieces were cut out.
Basic Instructions:
Print out template and cut two pieces of felt on fold for bag.
To attach zipper: cut one side of bag 1 3/4″ below the top edge.  This will be your zipper placement.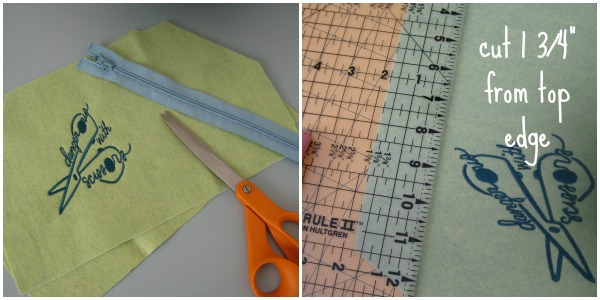 With zipper foot attached on machine; position cut edge of felt up close to the zipper.  Straight stitch along each side of zipper.  Take your time, this stitch line is exposed and will be visible. To add additional stability and keep my zipper tape in place, I added a decorative stitch along the top edge of tape.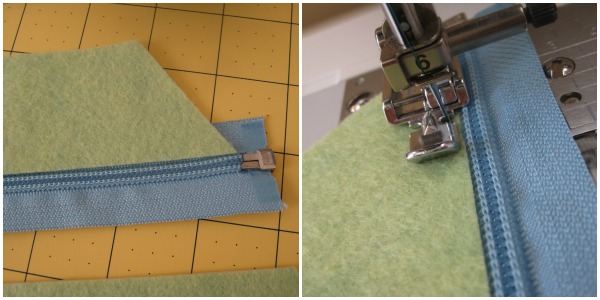 Pin right sides together and stitch all around using a straight stitch and 1/4″ seam allowance.
To create mitered corners match the side seam to bottom seam; fold.  With your straight ruler, draw a line 1 1/2″ from the point; draw line.  This is your stitch line.  Straight stitch across this line.  I like to stitch twice for security.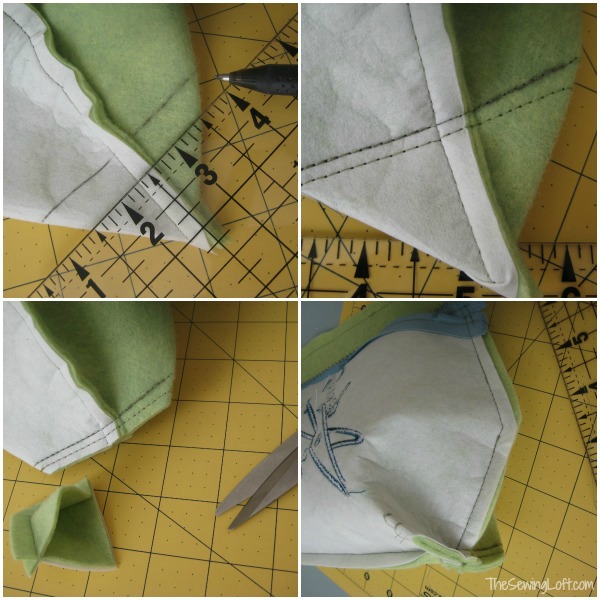 Trim and clip corners all around the inside of bag.  Turn right side out and lightly press.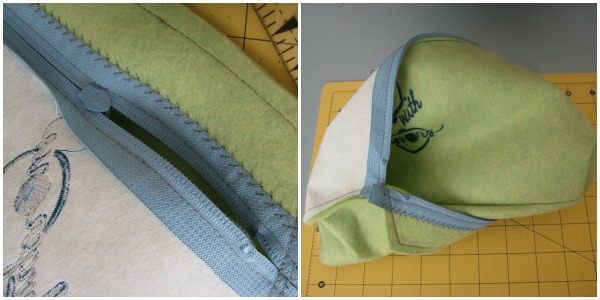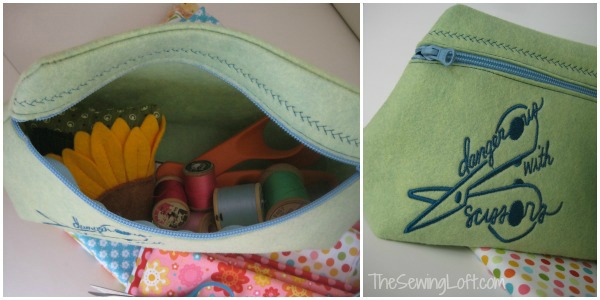 I just love that all my goodies have a safe case to travel in.

ps- did you "spy" the embroidery?  It's yours for the grabbing!  And if machine embroidery isn't your thing- no worries, I've gotcha covered.  More projects on the way!
Hello! Are you new here?

Do you want to learn more about sewing? If so, be sure to sign up for our newsletter HERE and never miss a stitch! Daily Sewing Tips, Everyday Projects and Fantastic Inspiration delivered straight to your mailbox!

Bonus– free download with newsletter sign up.

Feel free to connect with me on Facebook, Pinterest, or Instagram.  I look forward to getting to know you and stitching up a storm!