Have you ever stumbled across a fantastic fabric find at an estate sale but hesitated to bring it home due to the way it smelled?  Or perhaps that vintage fabric has a few unsightly stains that you have no clue how to get out? Well, as a seasoned estate sale hunter, I have a few tricks up my sleeve to help bring these treasures back to life!
Vintage Fabric Finds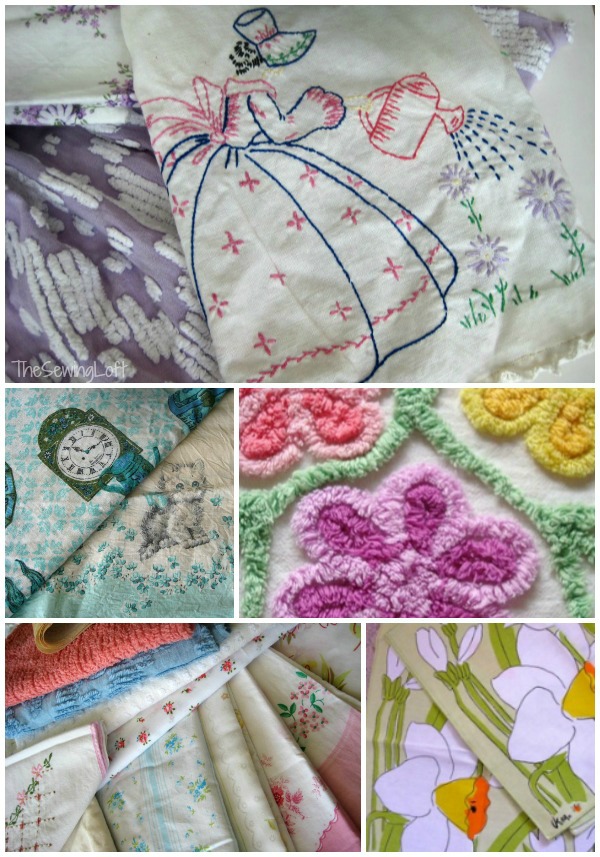 Vintage fabrics come in all shapes and sizes.  A few of my favorites are table lines, chenille bedspreads, handkerchiefs and bed sheets.  I just love the pattern variety and the hand embroidery work. But the real question is how do we clean these hidden jewels.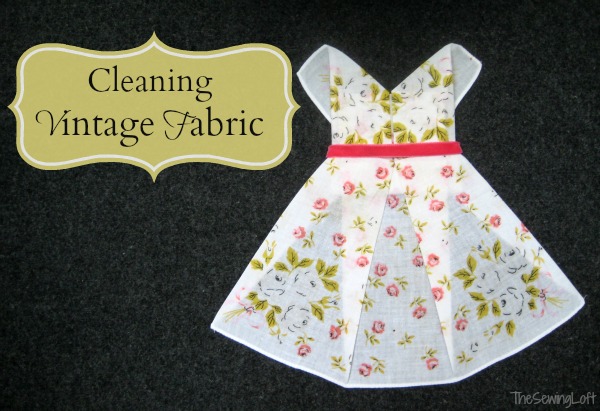 It's actually really easy and just requires patience.
The Smell Test-
First things first- do they pass the smell test? Whether they have been stored in an old cedar chest or a damp basement, I'm sure they smell funky! To help battle this, I like to I like to air out my goodies for a day or two before cleaning.  That's right, just unfolding them and airing them out can do a world of good in the smell department.
Cleaning-
Next comes the cleaning.  Washing and cleaning vintage fabric can be tricky.  There are many ways to clean your linens and remove stains on the internet but this is the method I like to use.  In a large plastic tub, create a mild temperature bath of white vinegar, water and Twenty Mule Team Borax. (Sometimes, I even add a drop of Ivory dish soap.) Let fabric soak for 10 to 15 mins, then lightly wash fabrics by hand. Be sure not to agitate the fibers too vigorously as sometimes this can cause tearing.  Gently ring out water.  Gentle is the key word here! Do not twist and pull. If needed, place items between dry towels and roll out excess moisture.
Drying-
Finally, its dry time.  For this mother nature is your friend.  I like to place my finds outside on the grass away from direct sunlight to dry.  I want to just stress here that I do not hang them on a clothes line, back of a chair or anything for that matter.  Sometimes the weight of the fabric is too much for these vintage babies. By laying them down on the grass you are allowing the air to circulate all around and reducing the stress on the fibers. Repeat the process as needed for heavily stained areas.
Sunshine-
Sometimes when an item is heavily stained I will place it to dry in direct sunlight.  You need to be careful on this one. Yes, the sun will fade the stain but it will also wash out and fade the pattern.  So, use this method as a last resort to save your vintage fabric.
These simple cleaning methods are a sure-fire way to help bring your vintage beauties back to life.

ps-Did you see that little handkerchief dress? That is one of my many vintage hankies. I created that dress with this easy to follow origami video tutorial and some vintage velvet trim.  I'm still not sure what I am going to create with it but I think I'm off to a great start.