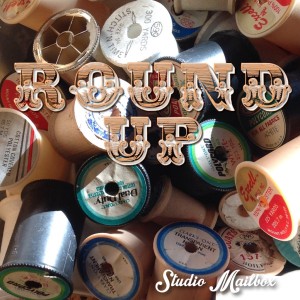 Hello Friends of First Fridays, it's your old pal TJ from Studio Mailbox here reporting to you on the first Friday of every month where I strive to provide you with a regular dose of sewing humor.  How fun is it that this Friday also happens to be the very first day of a whole new year?  I'm giddy with the thought of twelve fresh months for creative shenanigans!!
But before launching off into 2016 with our presser foot's pedal to the metal, lets take a moment to look back at all the fun times we had over the course of the last 12 months:
January – I shared a Round Up of First Friday Posts from 2014
February –  We free styled some Free Motion Valentines.
March – We celebrated National Quilting Month by highlighting Miccosukee Indian Patchwork.
April –  I shared Vintage Sewing Machine eye candy.
May –  Heather was in need of a Surgical Bootie Cover and I faithfully came to her rescue.
June – My dog, Lucky, takes center stage in this Curtains to Dog Bed project.
July – Even I get national holidays off.  This was a quick post linking to awesome Patriotic Projects.
August – I shared my groovy Reverse Applique Totems.
September –  It was National Sewing Month and I made Scrappy Journal Book Covers.
October – I refashioned a men's dress shirt into an apron.  A thin, crappy apron, but still.
November – I wrote about the stress of Holiday Preparations and gave us permission to dial it down a notch.
December – I struggled to operate an eyelet setter while creating Scrap Canvas Gift Tags.
Remember, First Fridays all began when I created a meme for Heather's birthday waaaay back in December 2012.  Feel free to browse the Sewing Meme Round Up for a corny blast from the past!
Thanks for tuning in.  I'm looking forward to whatever creative adventures are in store for us in 2016.  Chime in if you've set any sewing goals for this year.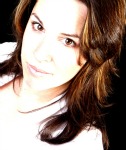 TJ Goerlitz is a mixed media artist who pretends to be a seamstress whenever possible.  Come connect with her on her site, Studio Mailbox, her Facebook page, or in Pinterest.  Join her on the first Friday of every month where she shares her latest sewing tales with the readers of The Sewing Loft.