A few weeks ago I shared my peacock pillow design on Facebook and based on your response, the design is a hit!  This pattern has been created for a very special project with Enchanted Makeovers.
Peacock Pillow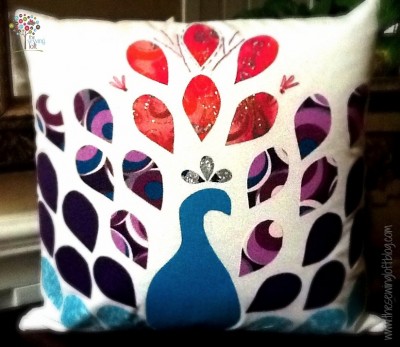 Today, I am sharing the full how to and pattern for you to make your very own pillow to pass along.
This project is for all levels.
Skill Level- 1 Button
Materials:
base fabric to cover pillow
colored fabrics for appliqué (reclaimed tees)
double-sided fusible
embroidery thread *optional*
Tools:
Sewing Machine
Iron
basic sewing supplies
*This blog post has been converted to an optional PDF that's optimized for printing and ad-free. Find more here. The blog post is totally free to read, print, and sew! The PDF tutorial & download for $2 is totally optional.
Pattern:
Measure your pillow to determine the base fabric size. Don't forget to add seam allowance. See easy pillow cover instructions here.
Trace pattern pieces onto fusible. Following the directions on the package, apply the fusible to the wrong side of the fabric; cut out pieces.
Position body on the lower center of the pillow.  Once you are happy with the placement, peel the backer paper of fusible off; place and iron as directed on the packaging.
Continue to place feathers and fuse in place.  I like to start at the bottom and work from side to side. This will help keep the appliqué uniform in shape.
You may wish to add a straight stitch or zig-zag stitch along the edge of appliqué for that extra detail.
I like to add simple hand stitching around the upper feathers to enhance that handmade look.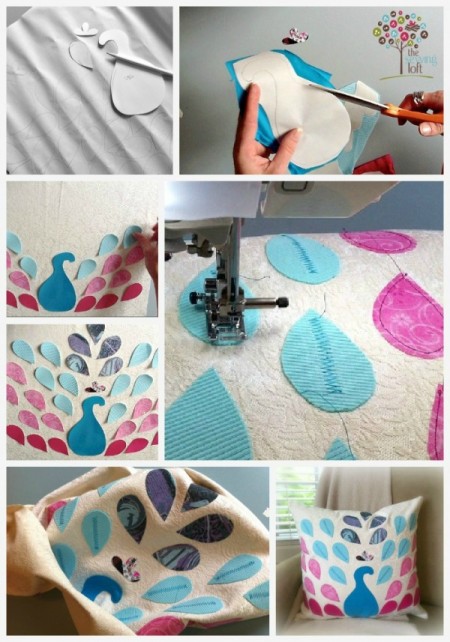 Even though everyone will be using the same design, each pillow will be uniquely different.  Please share your talents & skills to create a peacock pillow for the shelter.   Pillows should be sent to Enchanted Makeovers by October 30th, 2012.

Here is a small glimpse into the shelter.  The bedspreads are a soft chenille with light turquoise coloring and flowers partnered with red gingham.  Please keep this in mind when creating your pillows.  Preferred colors are light background, pink, yellow, turquoise, lavender, and greens.  Be sure to have fun here mixing color and patterns.
I can not wait to see the amazing pillows you create! Please be sure to share pictures on the Facebook page.


Hello! Are you new to The Sewing Loft?

If so, I'm glad you stopped by and hope that something has inspired you to keep your needle moving!  Don't miss a single project and subscribe via email HERE! Bonus- free download with newsletter sign up.  Another great way to connect with me is via Facebook, Pinterest, or Follow along with Bloglovin.  I'm looking forward to getting to know you and creating together!