The ladder stitch is a simple and commonly used stitch in sewing, yet so many people tend to struggle with it.  Sometimes the ladder stitch is referred to as slip stitch.
Ladder Stitch
noun
an embroidery stitch in which crossbars at equal distances are produced between two solid ridges of raised work.
origin: 1880- 1885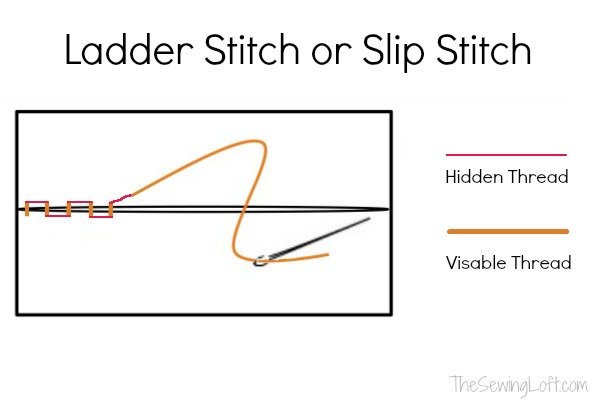 This sewing tip is for all levels.
Skill Level- 1 Button
The ladder stitch is easy to create, let's learn how.
Iron seam allowance flat. Thread hand sewing needle with coordinating thread, match seam allowance together and pin in place.
Begin with a knot at thread end and make a short stitch into one of the folds, followed by another short stitching into the other fold on the opposite side.  Pull thread to keep the two folds together.
Continue until opening is closed and back stitch to secure.
Additional Tips:
Use a strong thread like hand quilting.  It will stand up to all the tugging and shouldn't snap in half mid-way through your seam.
Pressing your seam allowance to create a crisp edge will make the process easy, keeping stitches in a straight line.
Keep your stitches close together and small.  This will prevent stuffing from showing through.
The two folds of seam allowance will meet or "kiss" when the stitch is done correctly. The stitches should be almost invisible.
The ladder stitch is perfect for closing pillows, small plushie toys, quilt bindings and sew much more.  Need inspiration? Check out the tutorials page or my pattern shop  for easy sewing patterns to keep you in stitches!

Don't forget to check out our Sewing Tips and Tricks page for more easy ways to keep your projects looking their best!
Hello! Are you new to The Sewing Loft?

If so, I'm glad you stopped by and hope that something has inspired you to keep your needle moving!  Don't miss a single project and subscribe via email HERE! Bonus- free embroidery pattern with newsletter sign up.  Another great way to connect with me is via Facebook, Pinterest, Twitter, Google+ or Follow my blog with Bloglovin.  I'm looking forward to getting to know you and creating together!