The past few weeks I have been putting my serger to the test with some casual sewing. And I think it's time for some basic machine maintenance. It's not really a task that anyone likes to do or talk about but it is so important to keep our tools in tip-top shape.  So, let's jump-start the week with some basic maintenance.  Think of it like dusting the house – it's not something we want to do but we need it needs to be done!
I promise basic machine maintenance requires just a few handy tools and discipline.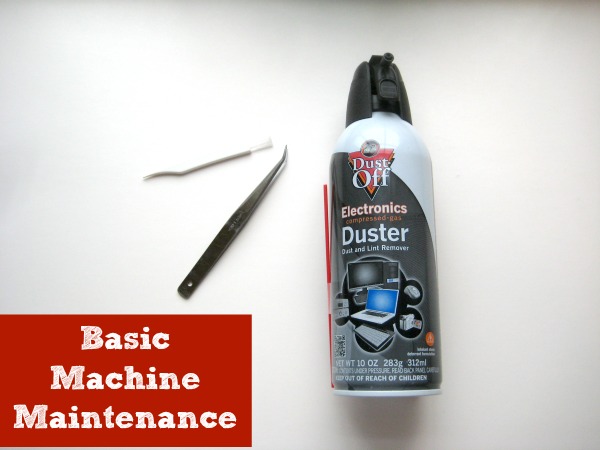 This project is for all levels.
Skill Level- 1 Button
Tools:
A spray can of compressed air
Small soft brush (should be in the accessory bag)
A pair of long tweezers (if you have them)
Basic Instructions:
It is important to start with your machine unplugged. It might sound silly but there is no reason to take chances!
Position the needle in the upright position and open the front door.
Pump a few spurts of air from your spray can to clean out all built up dust.  Be sure to use that long, thin straw to get all up and inside the machine being careful to blow the build up OUT of the machine.
If needed, use your brush & tweezers to grab any larger loose bits.
Machine Maintenance is a MUST
Check out this picture, it was taken after just one project. Yuck! To avoid dust build up, I like to clean my machine after each project or two.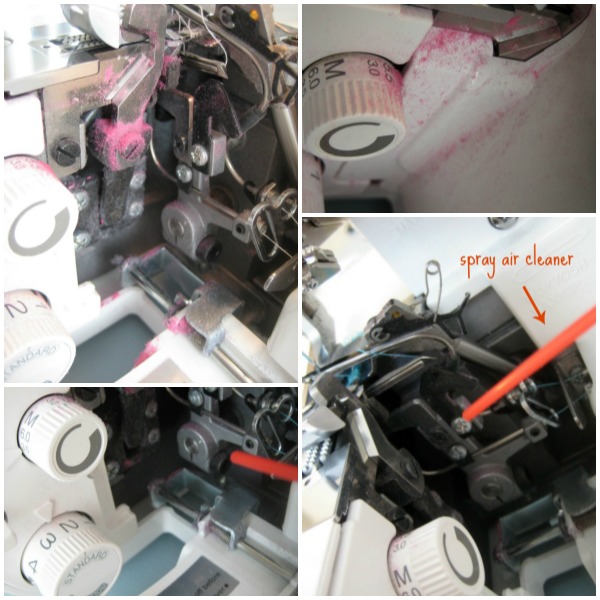 *This is just basic maintenance and should not replace the regular trip to the shop for a tune up.  I do not suggest adding oil or removing any parts for a basic cleaning.
If you follow a basic machine maintenance routine you will not only prolong the life of your machine but it will run smoother too.