Since we are swapping trims and I think by now everyone knows just how much I LOVE my scraps, I thought I would share my ribbon gift card holder.
Ribbon Gift Card Holder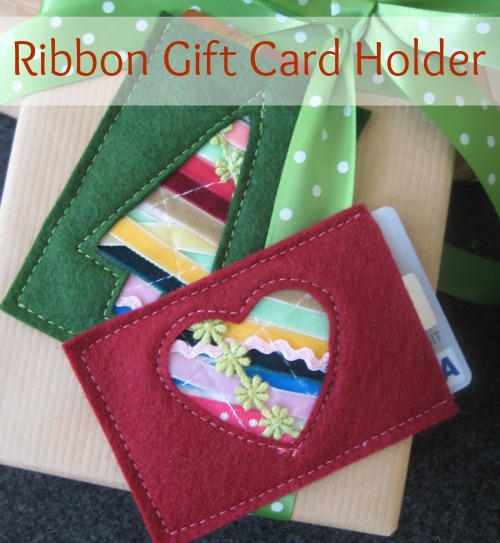 What's a girl to do with a pile of scrap ribbons?
I made a ribbon sandwich!  But then what? Well, since I always seem to find myself needing a last minute gift, gift cards are my go to- easy score.  But in fairness, I don't like just putting them inside the card envelope.  That is where the ribbon gift card holder comes in…  It turns that simple gift into a thoughtful package.
This project is for all levels.
Skill Level- 1 Button

Pile of ribbon + scrap of fabric+ stitching = fun fabric!
Materials:
ribbon scraps
felt 6 " x 7″
lightweight scrap fabric
Basic Instructions:
Start with pressed ribbons and scrap fabric.  Lay your ribbons flat along surface of fabric.  Feel free to overlap and create a pattern.
Stitch ribbons in place with a straight stitch.  I like to create a grid pattern with stitches.  This captures all ribbons.  *Tip- I like to use my walking foot for this step. It helps move all layers at the same rate of speed.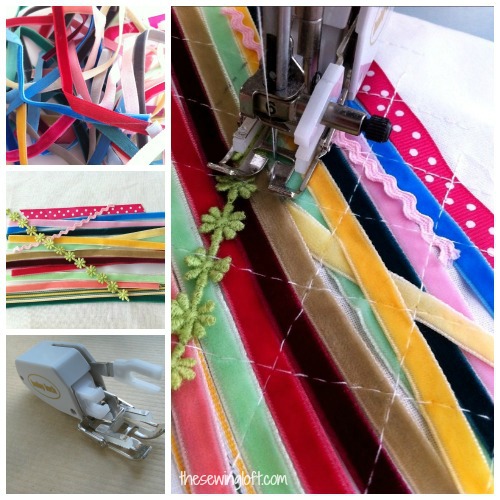 Cut 2 pieces of felt 3″ x 3 1/2″.  On top layer, draw and cut out your design.
Place your top layer of felt over the ribbon fabric, pin in place.  The ribbon fabric will peak through your window cut out.
Straight stitch in place. Trim away all excess ribbon fabric.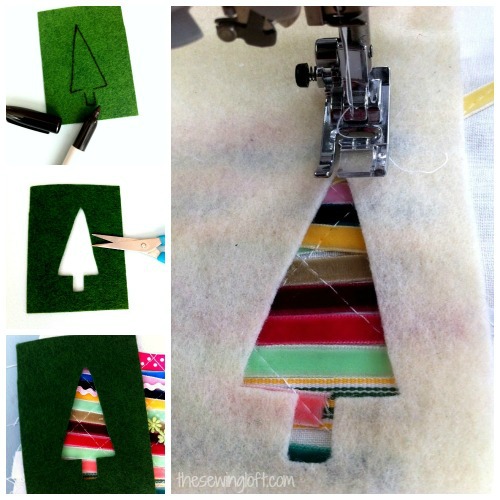 Sandwich your top and bottom layers of felt together with wrong sides kissing.  Straight stitch around the edge on 3 sides.  Back stitch at start and stop.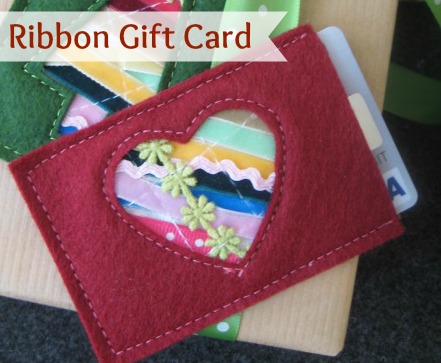 You can really make these into any shape and size. They would even make a fun card.  So, before you toss those small bits of scrap out, I hope you think of this quick project.  I collect my small bits in a jar and stitch them all together when it gets full!

ps- this project originally appeared on Skip to my Lou last year.