Do you ever get bored with your stash? I do! I look at it and sew on it almost everyday so, it's only natural to want something different from time to time. Since I'm terrible at letting go, I like to make sure it has a great home to go to.
To help clear out, I like wrap up a few pieces together and create mini bundles. These little minis are perfect for tucking inside a swap, gifting to a new friend at your next sewing retreat or donating to a local sewing group.
Mini Scrap Bundles
To make a few mini scrap bundles:
Gather a few fabrics that look nice together, press, fold and stack together. Tuck a thread spool or button card on top and wrap with a strip of fabric.
That's it! These mini scrap bundles are that simple.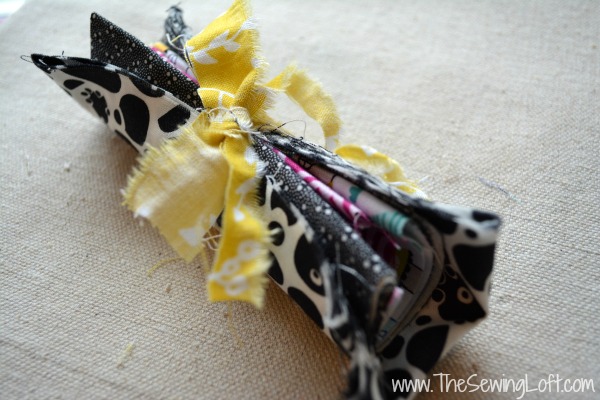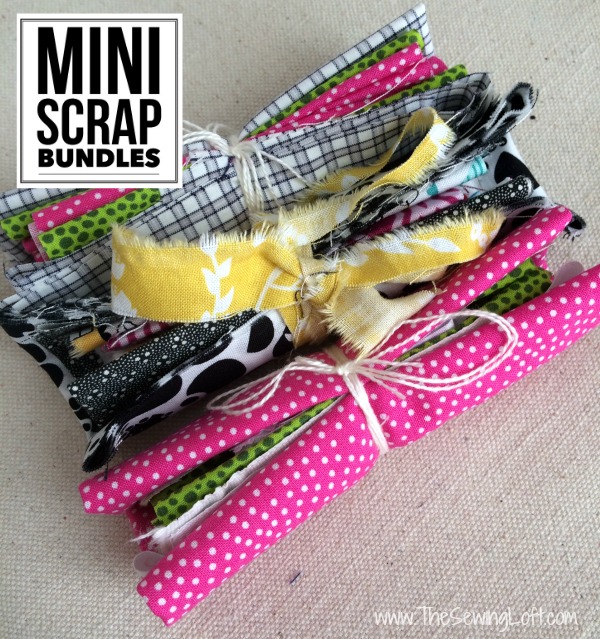 Where ever you send your mini bundle, I'm sure it will bring a smile to someone's face. Remember, one gals stash is another's treasure! Share the love….

Hello! Are you new to The Sewing Loft?

If so, I'm glad you stopped by and hope that something has inspired you to keep your needle moving!  Don't miss a single project and subscribe via email HERE! Bonus- free embroidery pattern with newsletter sign up. Another great way to connect with me is via Facebook, Pinterest, Twitter, Google+ or Follow along with Bloglovin.  I'm looking forward to getting to know you and creating together!