You've booked your first sewing retreat – hooray! It feels great to set aside time to craft and create with fellow sewing enthusiasts, and to get away from the hustle and bustle (and even the hum-drum!) of everyday life.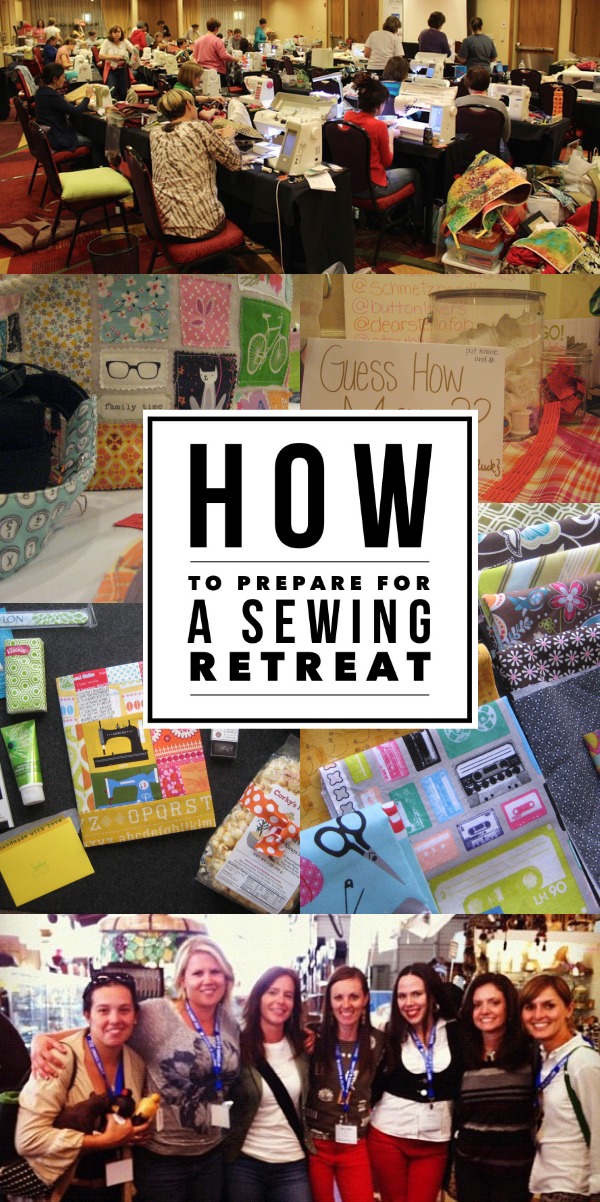 Except that you may be thinking … okay, now what? Booking the retreat was one thing, but preparing for it is another thing entirely! Never fear – we've got your back, as always. Here are some great tips for how to prepare for a sewing retreat.
How to Prepare for a Sewing Retreat
Tips for Sewing Retreat Participants:
Prepare for any kind of weather, even if it's not "normal" for this time of the year. It could rain all weekend, or be sunny and hot. There could be a cold snap, or a heat wave! And even if you could predict the weather outside, you'll never know for sure about the temperature inside the retreat facilities. The best way to prepare is to pack layers – that way you can always add one or take one away if you get uncomfortable in the current temperature. And don't forget a jacket and an umbrella, no matter the season.

Be ready to lose some sleep. Whether you stay up all night focused on a sewing project, or hanging out with your fellow retreat-goers, you will probably end up staying up later than you would at home. Add to that the fact that you'll be sleeping in a strange bed, and possibly in a room full of strangers who have their own nighttime noises to contribute to the ambience – yep, you guessed it. A lack of sleep is par for the course. There are things you can do to help yourself out, though – pack your own pillow and blanket, bring ear plugs or sleeping pills, and there's always a double dose of morning caffeine to get you going. You can sleep when you're home, right?

Pack a snack, or several. Whether you're attending a retreat that will provide meals for you or one where you have to cook your own, sometimes you're not going to feel like eating at mealtimes (or eating what they're serving). Other times you'll find that you just really need some healthy food to fuel a marathon sewing session, so pack your old reliable favorite snacks. The best options are single-serving packaged snacks such as granola bars or nuts. Fruits and veggies are also great, and make sure you bring plenty of your favorite beverage if you're picky about what you want to drink. While you're at it, you'll probably need a travel mug or bottle to drink from, too!

When in doubt, over-pack. You may think you're going to use this retreat as a chance to really buckle down on that one project that you haven't been able to finish, but the reality is that you might get bored with that project. Or frustrated, even! So pack several projects with a variety of skill requirements, and that way you'll be able to follow your inspiration throughout the retreat. Always pack more than you think you can finish, too – you never know how much you might be able to complete with a few days away from your family members!

Keep comfort in mind. Whether you're choosing your wardrobe or thinking about the bedding you want to bring – go for comfort, every time. A sewing retreat isn't a fashion show or a beauty contest. You can skip the makeup, wear PJs all day and relax! If that's not your thing, at least know that you should pack comfortable clothes and shoes so that you can focus on the sewing and not on the way your clothes make you feel.

Know where you're going. Keep directions handy so you can find your way to the retreat center. This tip is actually twofold, because the other side of this is that you need to understand the type of retreat you're attending – will it be free sewing, or full of classes + workshops? Do you have to have a certain skill level to attend, or is it open to all sewing enthusiasts? Are there extra fees to sign up for certain bonus features? Find out the answers to all of these questions to make sure you get the most out of your retreat experience.

Be Open! This is kinda of a big one for me. One of the biggest take aways for me was just how friendly everyone was and how much I enjoyed their company. While it can be overwhelming to meet new strangers, you should be open to making new friends. You never know you may just walk away with so much more than a finished UFO.

Get ready to have fun! A big part of any sewing retreat is meeting like minded peeps. That's right, you all share a common interest so, expect to make new friends along the way.
Keeping the above list in mind here are a few of my favorite things to bring:

-Snacks to share: since I like the sugar high, they are mostly candy based.

-Fun stickers or pins to hand out to new friends.

-PJ's! I know what your thinking but sometimes, I like to sew in my pj's & flip flops.

-An extra tote bag to bring home extra goodies I made while stitching the night away.

-A note book to write down contact information so that I can keep in touch with my new peeps!
This spring, I will be bringing my mother to her first sewing retreat and I'm sure she is going to be blown away on so many levels. Like the amount of creativity and the open arm welcoming that our community offers. I'm totally excited to see it through her eyes!
You can find a fun list of sewing retreats for

2017 here,  2016 here and  2015 here.
How about you – are you a sewing retreat veteran, or planning your first-ever retreat experience this year? We'd love to hear how you're preparing for a sewing getaway – leave us a comment below!

Hello! Are you new to The Sewing Loft?

If so, I'm glad you stopped by and hope that something has inspired you to keep your needle moving!  Don't miss a single project and subscribe via email HERE! Bonus- free embroidery pattern with newsletter sign up.  Another great way to connect with me is via Facebook, Pinterest, Twitter, Google+ or Follow along with Bloglovin.  I'm looking forward to getting to know you and creating together!