It's that time of year when our attention turns from sunny days at the pool to alarm clocks and homework. For that reason, it seems only fitting that this weeks edition in the Blocks 2 Quilt series is the Pencil Point quilt block.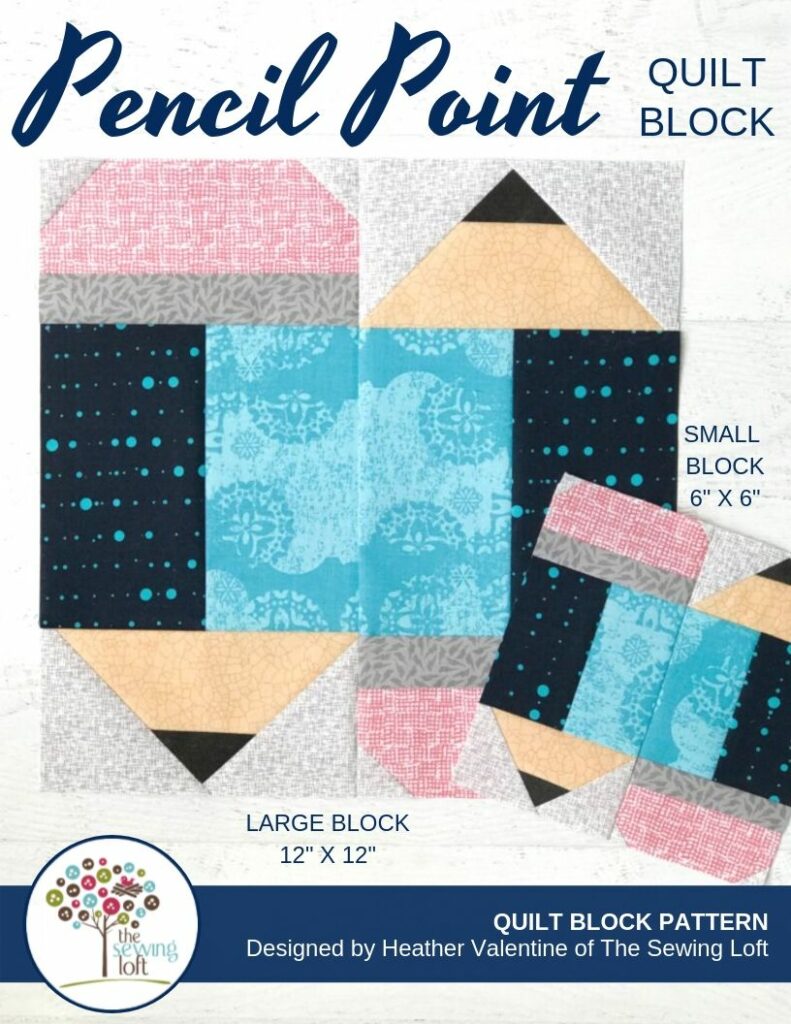 It's hard to believe but yesterday we dropped off our oldest, Lady A, at college and wished her much success on her year ahead. For her, the next few months are open books, sharpened pencils, and late-night study sessions. Luckily, she loves her major and seemed to thrive in the environment.
Pencil Point Quilt Block
Each finished Pencil Point quilt block measures-
6″ x 6″ (15.2 x 15.2 cm)
12″ x 12″ (33 x 33 cm)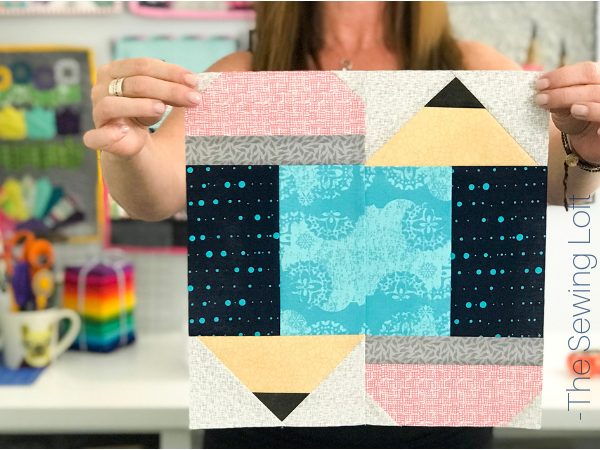 Materials & Tool Supply List:
Assorted Scraps: Pink, Gray, Blue, Tan, Black & Background Prints
There is something about a short and stubby pencil with a fresh point that makes me feel all inspired. Each pencil is full of possibilities and the colored ones were always special.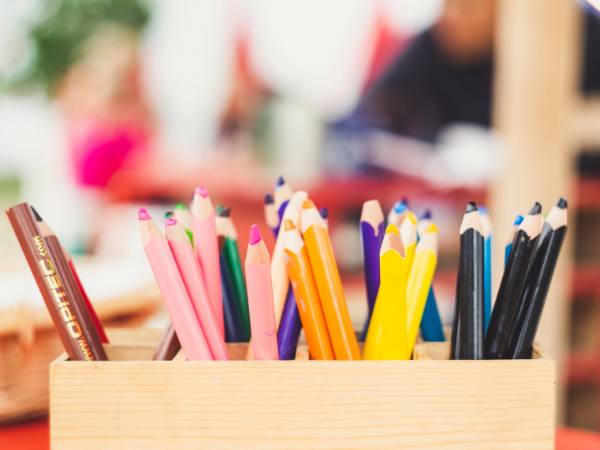 For me, it was always the eraser that I seemed to wear down before the pencil was through. I think it was my overactive imagination at work while trying to scribble notes or drawings on the page. That's why today, I always keep a full-size eraser in my desk drawer.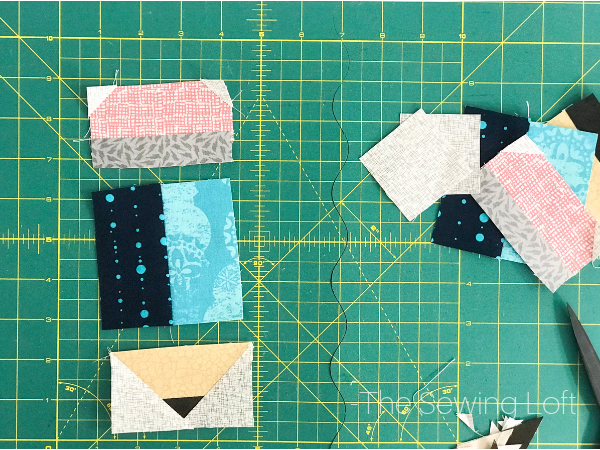 Pencil Point Block Construction:
The Pencil Point quilt block is made with a simple patchwork construction perfect for every skill level, including beginners! The block highlights straight sewing and the traditional flying geese technique. Stitch up the pencil point quilt block in every color in the rainbow! You can even swap out the black tip for a colored one.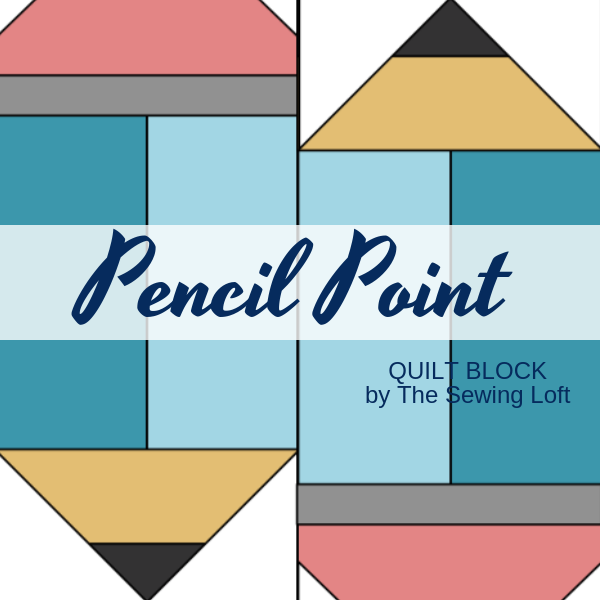 This week you can add the Pencil Point quilt block pattern to your library for free after that it will be available for sale in the shop.
No matter what color you stitch up, I'm sure it will look amazing!
Pinnable Pencil Point Quilt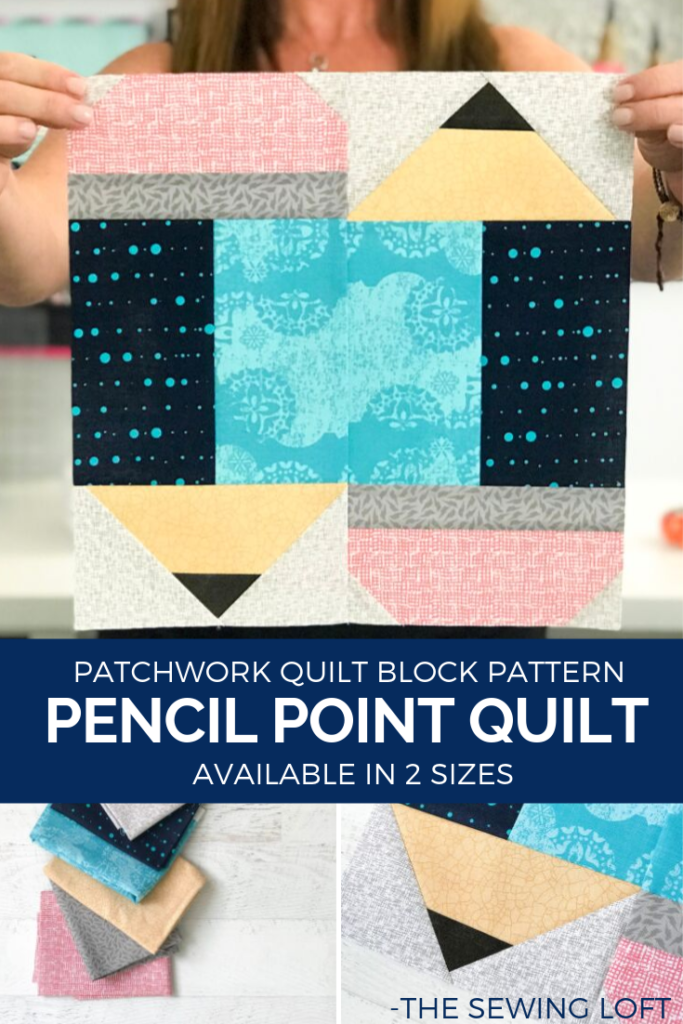 Be sure to sign up for the Blocks 2 Quilt newsletter and never miss a block again and click here to see all of the blocks previously shared.

Hello! Are you new here?

Looking to learn more about quilting & sewing?
Be sure to sign up for our newsletter HERE and never miss a stitch! Daily Sewing Tips, Everyday Projects and Fantastic Inspiration delivered straight to your mailbox!

Bonus– free download with newsletter sign up.

Feel free to connect with me on Facebook, Pinterest, or Instagram. I look forward to getting to know you and stitching up a storm!