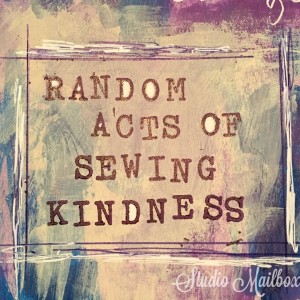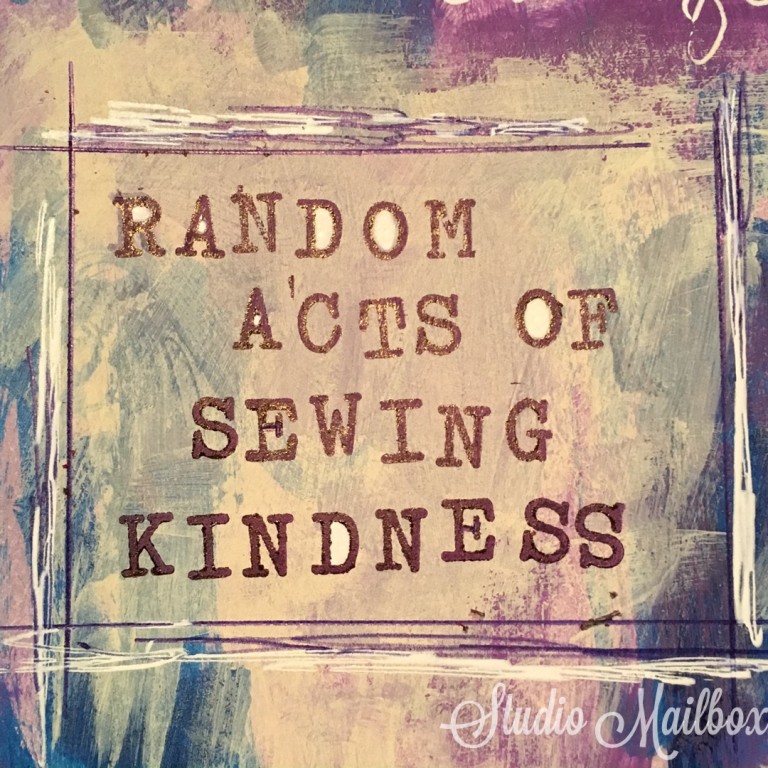 Welcome to the first Friday in May.  This is TJ Goerlitz of Studio Mailbox reporting to you monthly with a focus on Random Acts of Sewing Kindness or RASK for short.  In April we covered how my Gram rescued my friend Christa's couch but this month I wanted to tell you all about a special weekend when I followed through with the most amazing invitation to tag along with a group of ladies who meet annually for a sewing retreat.
I had no idea what I was in for!  All I knew was that I was to arrive at Simply Sisters Retreat Center in Richmond MN.  I had arranged to drive with my friend Jerry so we combined our luggage and journeyed an hour and a half west of Minneapolis.
Since 2016 has me on the trail for sewing kindness I figured there would be no better way than to infiltrate this clan of women and learn their ways.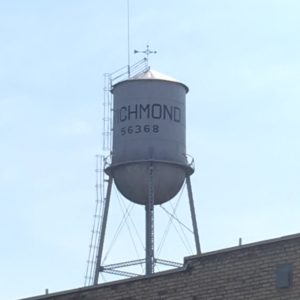 The first thing that happened upon arrival was that we had to choose a work station.  Quickly I realized that everyone else was going to be working on beautifully crafted soft materials.  Me on the other hand, (like a nincompoop), had packed a giant tub of full of paints along with my journal.  Irreversible catastrophes ran through my head as I imagined somebody accidentally bumping one of the plastic tables causing my water to spill all over a quilt somebody had been working on for the last year.
So I investigated the place and found a little kitchenette under the eaves of the attic on the top floor. (Seriously.  This building was SO charming!  There was even a New York City style fire escape outside my bedroom window).  Immediately I decided that 3rd Floor was where I had to be if I was going to get any work done with peace of mind.
Car load by car load ladies arrived.  I had no idea sewing machines come in rolling travel suitcases these days.  My old metal Singer has a hard plastic top that fits over it's base and buckles at the sides.  Needless to say, mine is nothing like these newfangled contraptions.  It was apparent from the start that these ladies were heavy hitters.  I pretended to be generous and offer to help drag things in.  Truth is I just wanted to get my hands on their modern machines!
One by one people claimed a space at the tables that were assembled in two long stations.  Food and coolers were stashed, bedrooms were secured and work started coming out.
All around impressive projects were being unveiled.  I said a silent prayer to the angels above for the kitchenette upstairs.  There was no way I could have painted elbow to elbow with the beautiful fabrics that were everywhere.  Every time I came downstairs I watched the progress of the pieces coming together and got to know the people behind the projects.
A couple of the women had machines that were so fancy they were more like computers.  Other ladies had these cool tables that slid around the necks of their machines transforming their spots into level working stations.  Who knew you could buy a neck tie for your machine?  I may as well have been on the moon.  These ladies had it going on!
There seemed to be an endless array of crafts happening in unison.  I watched a woman warp a loom. (And boy is that a process that has a million metaphors for life hiding within it).  One was knitting, one was cross stitching, there was some paper crafting happening, most were sewing.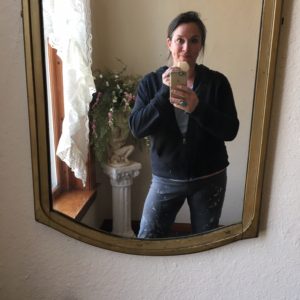 At one point I came down to casually sneak my 47th sugar cookie and found that nearly everybody was missing.  I could hear them so I followed the voices and discovered that they had commandeered the breakfast hall to make a big quilt sandwich.  They were all working together to make the top fit exactly above the fluffy filling which was getting secured exactly above the backing fabric.  It was an extremely competent looking ritual, made easy by so many experienced hands.
One of the women was finishing her first quilt and it was very exciting to watch her progress as she secured the bias tape and make those difficult 90 degree corners.  The sense of accomplishment was heavy in the air.  It was beautiful to listen to the supportive chatter around the stations.  I just kept dropping in and asking what I had missed since the last sugar cookie I had inhaled.  (Did I mention Connie who made the cookies?  Not only can she sew, she can bake like a boss.  How weird am I to have actually taken a selfie with one of her cookies)?  Please, we're spreading kindness here so don't answer that.
As for me I kept plugging away upstairs, happy as a clam, alternating between painting and writing.  Whenever I couldn't resist my sweet tooth any longer I'd stretch my legs and come downstairs to steal another cookie and check the progress of everybody's projects.  One lady was so productive I swear she was on a new quilt every time I came downstairs.  It could have been a Saturday Night Live skit if I hadn't seen it with my own eyes.  All I can report is that it's amazing how much work can get done in three days when you're removed from all other distractions.
So as I wrap up this post I'd like to encourage you to be kind to yourself this month and really set aside time to work on things that are sitting around just begging to be finished.  Better yet, pack up your machines and find some fresh scenery somewhere.  Next year I'm going to drag my clunky old machine in it's plastic hard case to the retreat.  I've got a year to figure out what I'll work on.  No matter what, surrounded with that sort of kindness I'm going to rock it!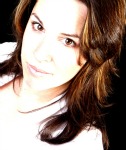 TJ Goerlitz is a mixed media artist who pretends to be a seamstress whenever possible.  Come connect with her on her site, Studio Mailbox,  in Facebook or in Pinterest.  Join her on the first Friday of every month where she shares her latest sewing tales with the readers of The Sewing Loft.
Looking to book your own sewing getaway? Be sure to check out this year's line up!