Some of you may have heard the news but late last week I shared a little secret, I'm hosting a sewing retreat this fall called Sew Scrappy Retreat!

Before I dive into the details, let me share some of the backstory. For years I have attended sewing retreats with best sewing bud…. my mom. Since we live so far apart, we've used the retreats as an excuse for a getaway weekend to sew, meet new friends and just have fun. The kind of weekends where no one worries about laundry, cooking dinner or deadlines. Nope instead, we just focus on having fun. We toss our hair up in messy buns, slice into our fabric stash and stitch the night away while chatting up a storm. Seriously, the best!
Each time we leave, we instantly start longing for the next one, wondering when our next "Memory Maker" will be. So, during the last retreat, I made it official and decided it was time host my own. I know that many will have questions about the event so here is a breakdown of what the weekend will look like.
Sew Scrappy Retreat Details
What is Sew Scrappy? Sew Scrappy is sewing retreat focused on learning through fun, unique projects. The Sew Scrappy Retreat is hosted by The Sewing Loft and features projects and techniques to help you stitch through your scrap stash.
Where is Sew Scrappy hosted? in Concord, North Carolina at the Hilton Garden Inn. The Hilton is located at: 7831 Gateway Ln, Concord, NC 28027, United States.
When is the Sew Scrappy? September 21st (Friday,) 22nd (Saturday,)  and 23 (Sunday,) 2018. *Registration begins at 10:30 am on Friday and the event wraps up at 2pm on Sunday.
What's included with each ticket? All lectures, classes & projects, open sew time, and these meals: welcome brunch/mixer dinner on Friday, breakfast/lunch/ both Saturday and Sunday, as well as all snacks to keep you fueled up to stitch up a storm. Rotary cutters/mats and irons will also be provided at every ironing station as well as design walls, and more goodies than you can shake a stick at!
What's not included with each ticket? Hotel room, transportation, fabric/notions, and sewing machines.
Do I need to book my own hotel room? Yes– you are responsible for your lodging and transportation during Sew Scrappy. We highly recommend reserving a room to stay on site at the Hilton Garden Inn (7831 Gateway Ln) and take advantage of the Sew Scrappy room block. If you choose not to stay at the Hilton, there are several other nearby hotels, though you will be responsible for your transportation to the Hilton each day. Click here to book your room at the Hilton.
Do I need to bring my own sewing machine? There are two options for sewing machines during the retreat. You may bring your own machine, OR rent a Baby Lock Presto II. For $75, we will have the Presto II ready and waiting for you when when you arrive and we will take care of the take down when you leave. This is a great option if you don't wish to fly with your machine or would like to try out the Presto II.
How much does it cost? $425 per ticket but you can get it on the early bird special for $375. (*early bird pricing is a limited time offer.)
During Sew Scrappy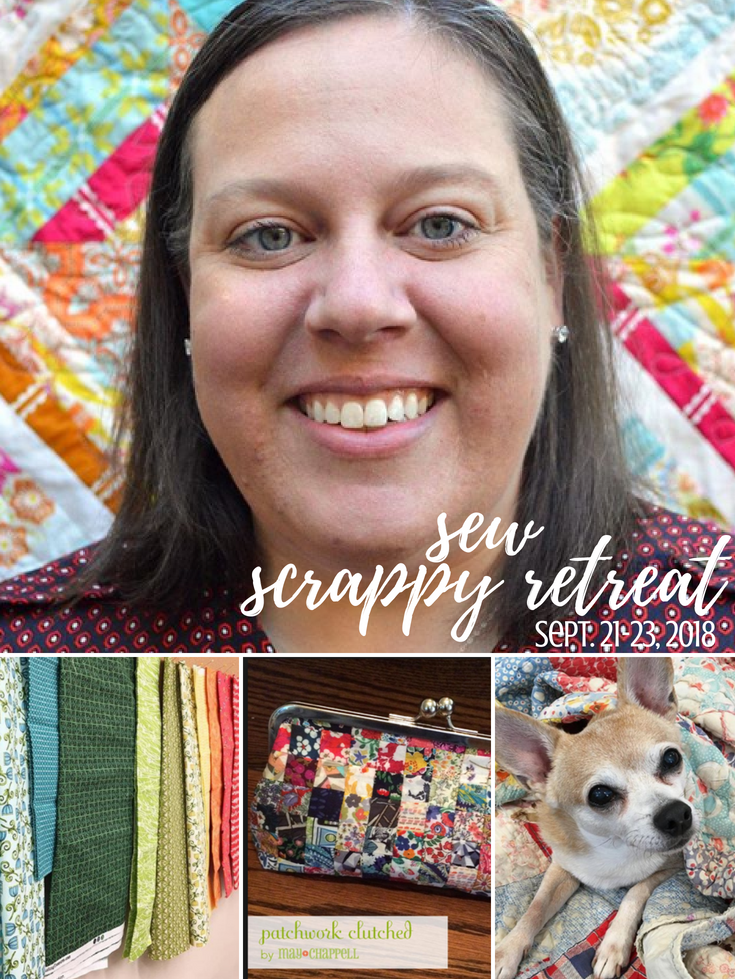 What skill level is required for the workshop? Beginners and Up!! The Sew Scrappy Retreat classes/workshops are designed to teach you the projects & techniques first hand. That said, you must be familiar with these basic sewing skills in order to keep up with the class: rotary cutting on a mat and how to use your sewing machine.
When are the lectures & workshops?  Each teacher has prepared something special just for you! In addition to surprise Make & Take's throughout the weekend, Lee Monroe from May Chappell will present her Understanding the Rainbow Color lecture Saturday morning. The lecture will focus on working with scraps and help us prepare for our afternoon workshop: Mini Clutch Case. Sunday am a very special guest will be coming by to show us tips we can use at home to keep our machines in top working order between visits to the shop.  Trust me, after a weekend of heavy sewing, this class is not to be missed!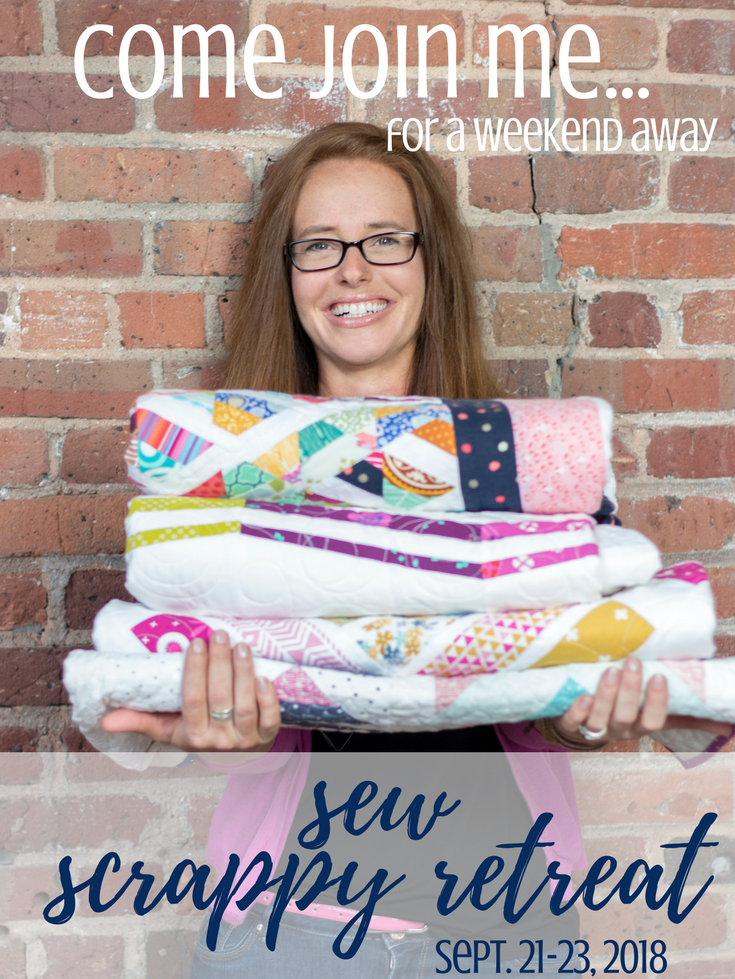 Will there be open sewing time? Yes! You're welcome to sew in the morning after the room is opened, between classes, during meals and into the late evening hours! Really, we want you to make the most of your time here. So be sure to pack plenty of personal sewing projects, be prepared to raid your goodie bag or grab something new at the shop.
What do I need to bring with me? 3 months prior to the Sew Scrappy Retreat, you'll be emailed a packing list to help keep you on track. Included will be any required fabrics & notions needed for class, details about the SWAP, challenges and more.
What happens if I forget something? Have no fear, we all understand things happen especially when traveling! I've teamed up with my favorite local shop We're Sew Creative and they will have a pop up shop right next to us in the hotel. Honestly, I'll warn you now, they have so many goodies that you need to leave room in your suitcase.
I have food allergies. Will there be meal options for me? Yes, prior to the Sew Scrappy Retreat, you will recieve an email to provide additional information so that we can notify the catering staff. **Advanced notice is needed so that we can make every effort to accommodate food sensitivity needs.

After Sew Scrappy Retreat
I loved using my Baby Lock Presto II during the retreat, can I buy it? Absolutely! Sew Scrappy Retreat is a great opportunity to "test drive" a new sewing machine, and take advantage of special event pricing at the shop.
Will there be patterns provided for all the projects so I can remake the at home? You Bet! Patterns are included with your ticket. Plus, we have some pretty amazing sponsors that are sending goodies your way…. again, I'm suggesting you save room in your travel bag. (hint, hint!!)
How can I stay connected with all my new friends after the retreat? Retreats are a great place to meet like minded friends and we want you to stay connected! Consider connecting on Instagram and using the hashtag #sewscrappyretreat2018 to see all the fun photos taken during the retreat and pictures of the finished projects.
So call your sewing buddies, grab your scraps and let's get ready to have some fun. Be sure to register today because space is limited!
Booking Your Sew Scrappy Retreat Weekend

If you have any questions or would like information on sponsorship opportunities, please me a note at Heather@thesewingloft.com.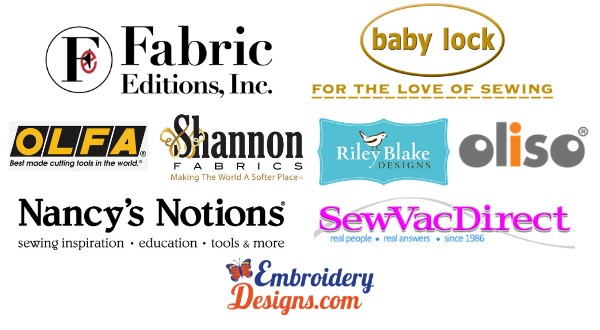 Hello! Are you new here?

Do you want to learn more about sewing? Be sure to sign up for our newsletter HERE and never miss a stitch! Daily Sewing Tips, Everyday Projects and Fantastic Inspiration delivered straight to your mailbox!

Bonus– free download with newsletter sign up.

Feel free to connect with me on Facebook, Pinterest, or Instagram.  I look forward to getting to know you and stitching up a storm together!