Sometimes finding the perfect gift for that special person in your life can be a challenge but not today! If you have a friend, wife or loved one who stitches this list of sewing inspired stocking stuffers is for you!
That's right, I've rounded up some of the best items on the market for your sewing buddy. Heck, I've been eyeing these up myself and hope my family is reading!!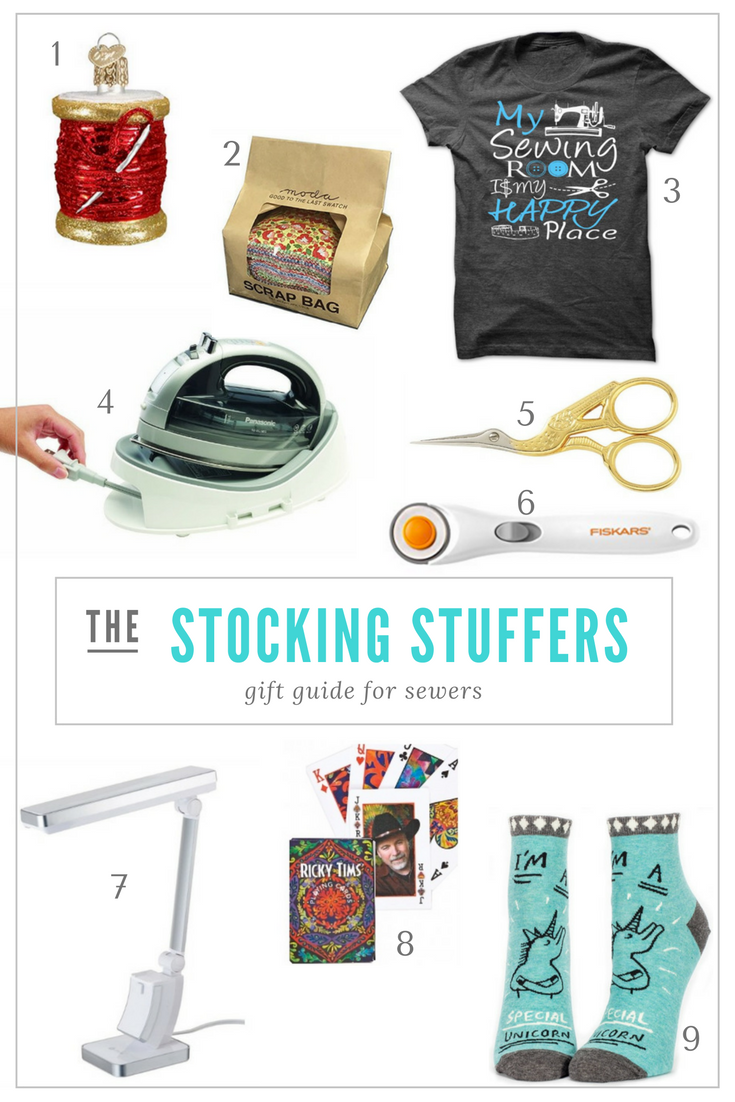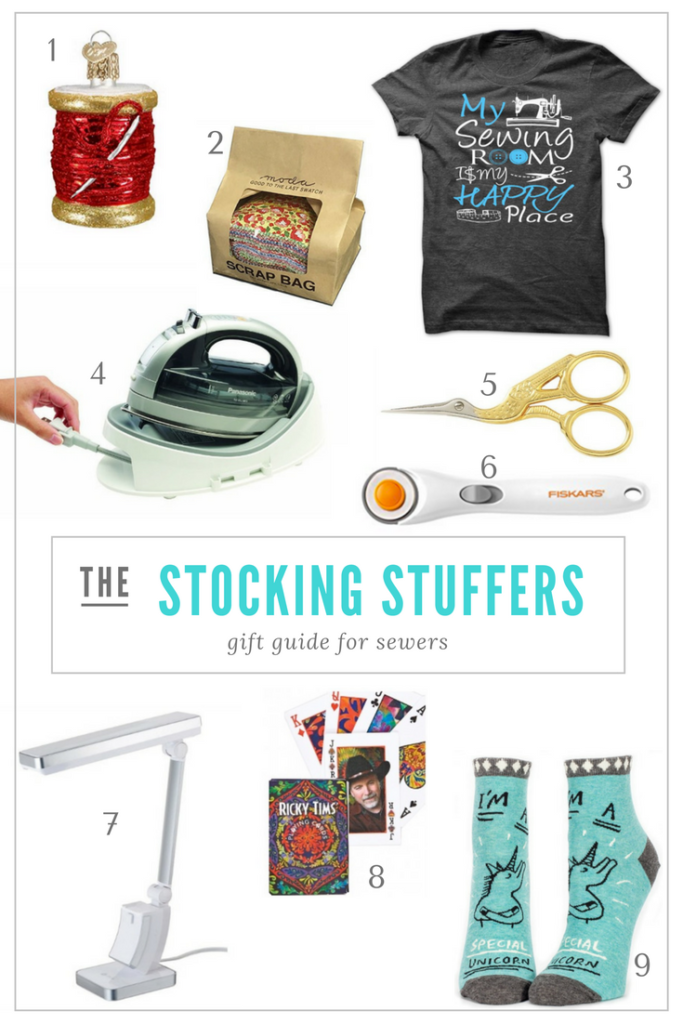 Sewing Inspired Stocking Stuffers
---
Wrap up this little ornament and make them smile year after year!
2. Scrap Bag-
Not sure what to get the girl who has everything? Well, grab a big olde bag of scraps and you will do just fine thank you!!
Keep them comfy and stylish while sewing in this cheeky tee.
4. Iron- 
Pressing and steaming is a mission critical step in sewing & quilting. Be sure to set those seams right with this cordless baby. It heats up in seconds and is not limited by a cord.
I think every seamstress secretly dreams about a special pair of snips and these golden beauties are perfect.
Did you know that rotary cutters and self healing mats are some of quilters best friends? That's right, their ability to save us time on the cutting table make them buddies we always want to have around!
7. Task Light-
The lighting in most sewing spaces is mediocre at best and this task light is perfectly sized for any table top.
The holidays are all about family and so why not add a new deck of cards into the mix for a fun family game night
As much as I like to sew barefoot, the winter months are cold and socks are a must. These unicorns just make me smile.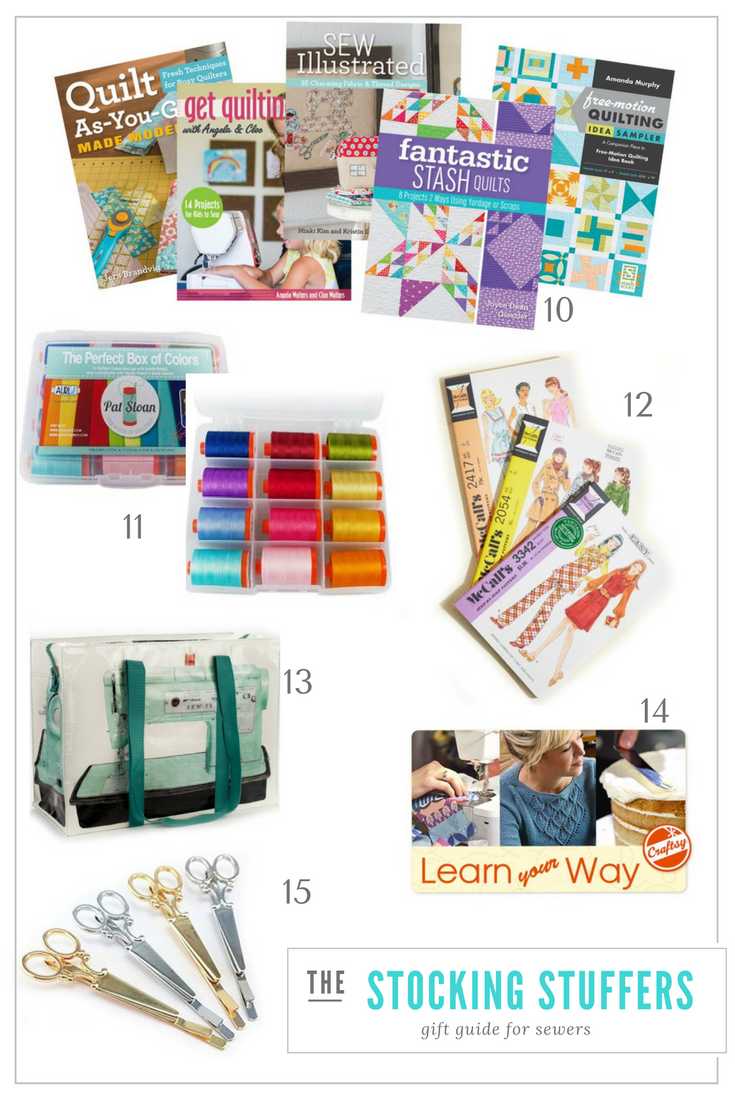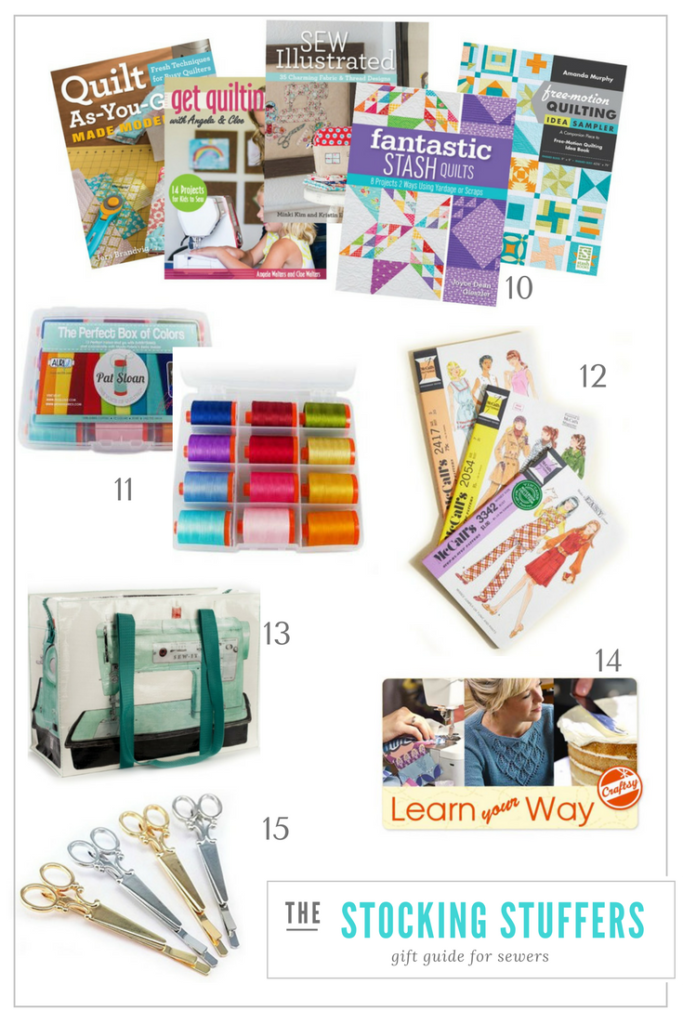 Give them a gift they can curl up to and be inspired by from anyone of these talented designers.
11. Thread-
You will want to make sure they have the perfect thread color to stitch everything together.
12. Sewing Notebook-
Help them share their creative journey and jot down notes for another day with these blast from the past notebooks.
13. Carry All- 
Every stitcher needs a bag to store projects, carry things to meetings and fill with new fabric so why not make it a fun one. This handy tote is made from post consumer products, has a zipper closure and is water resistant.
14. Craftsy Class-
Give the gift that keeps on giving. Craftsy has something for everyone no matter what their skill level and the best part is they can watch it over and over again!
It seems like most gals I know like to keep their hair pulled back while stitching up a storm and these pretties are perfect.
And if you really want to give them a treat- for a very limited time, you can grab my Scrap Snack bundle pack collection.  Scrap Snack Patterns are designed to help you bust through your scraps, highlight a new technique and are perfectly suited for all skill levels, even beginners. Order your bundle pack here.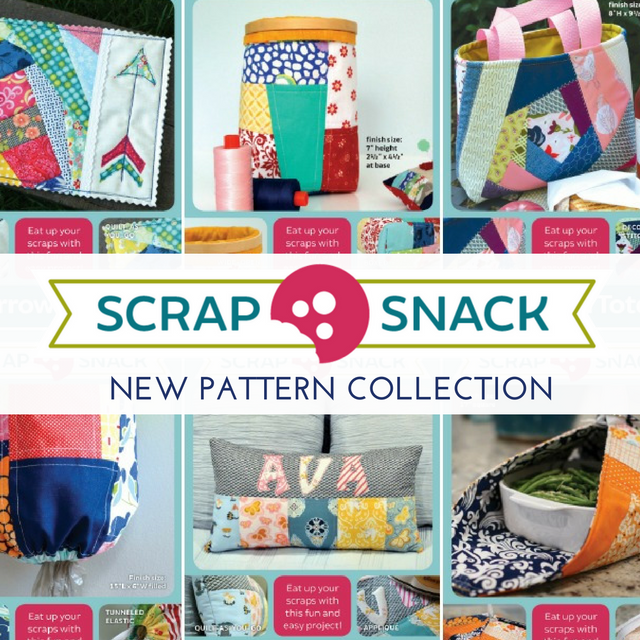 I think anyone in my sewing circle would be all smiles to recieve these sewing inspired stocking stuffers this season.
Since the holidays seem to creep up on us each year, I suggest you pin this post for the next year. This way, you won't have that Holy Cow the holidays moment! These sewing inspired stocking stuffers are sure to be a hit year after year. The best part is that every gift is affordable and will not break the bank!

Hello! Are you new here?

Do you want to learn more about sewing? So, be sure to sign up for our newsletter HERE and never miss a stitch! Daily Sewing Tips, Everyday Projects and Fantastic Inspiration delivered straight to your mailbox!

Bonus– free download with newsletter sign up.

Feel free to connect with me on Facebook, Pinterest, or Instagram.  I look forward to getting to know you and stitching up a storm!