Tailor's Chalk
noun
Tailor's chalk is traditionally a hard chalk used to make temporary markings on cloth or a garment.  This type of special chalk marks the spot on a garment where a garment might need to be taken in or let out, shortened or mark the placement of where to place an embellishment making it easy to see the exact placement.
Tailor's chalk usually comes in a rectangle shape that at times appears like a small piece of soap however, it can also be found in crayon shapes and in several different colors so that it can been seen on the marked object.
5 Tips for Using Tailor's Chalk
Mark darts using tailor's chalk on a bodice of a garment for accuracy.
Use chalk to mark the location of where to alter a seam on a garment or project.
Chalk can be used to mark embellishment or button placement on a garment or craft project.
It is perfect for marking the location of where to shorten pants or jeans that are too long.
Draw a temporary line using tailor's chalk from the inside corner to the outside corner of your border pieces to create and mark a mitered corner on your next quilting project.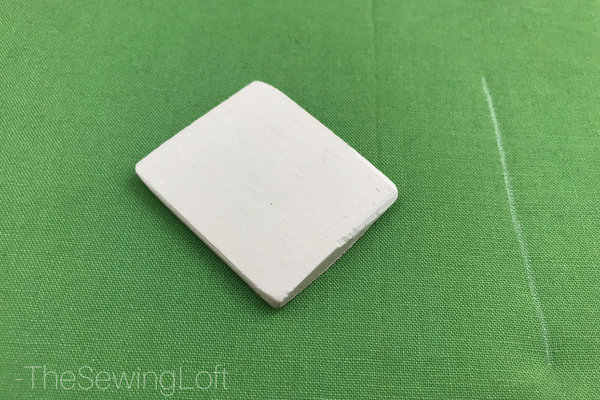 Tailor's Chalk Basics-
What is it: Tailor's chalk is usually a hard piece of chalk which sometimes comes in the shape of a crayon and is used to make temporary marking guidelines on a piece of fabric or cloth.
When to Use: This simple marking tool is perfect for marking hemlines, darts and placement of ornamental embellishments on fabric materials and projects.
Where to Buy: You can purchase tailor's chalk during your next visit to your local quilt shop or purchase here on-line.
For more ways to use tailor's chalk in your projects, click the below pictures.
Hello! Are you new here?

Do you want to learn more about sewing? If so, be sure to sign up for our newsletter HERE and never miss a stitch! Daily Sewing Tips, Everyday Projects and Fantastic Inspiration delivered straight to your mailbox!

Bonus– free download with newsletter sign up.

Feel free to connect with me on Facebook, Pinterest, or Instagram.  I look forward to getting to know you and stitching up a storm!