Since my scrap basket is once again out of control, I thought I would challenge myself to strictly sewing with scraps.  You know, that type of stitching that you have no clue what your making but you know the mixture of fun prints and wild colors is going to create something fantastic!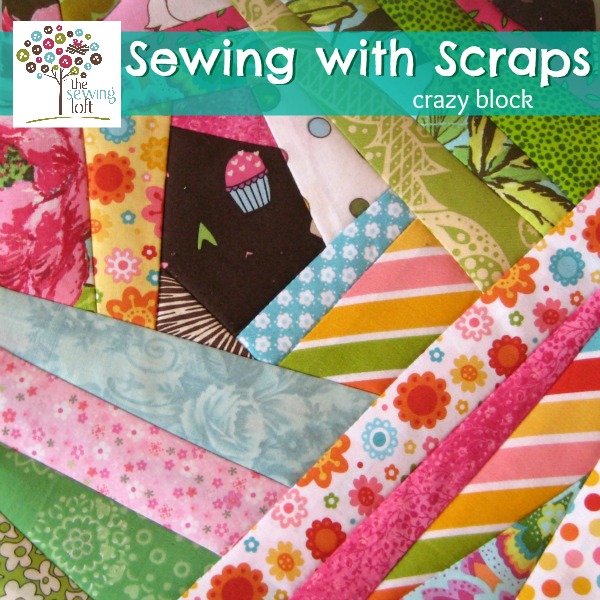 Sewing with Scraps – Crazy Square Block
This project is for all levels.
Skill Level- 1 Button
Materials:
fabric scraps
10″ x 10″ square of muslin or fabric
10″ x 10″ square of batting *optional
Tools:
sewing machine 

basic sewing tools
rotary cutter and self healing mat are optional
*Note that this project can be made in any size and you are basically creating a fabric sandwich with a layer of batting in the center.  Remember when layering that you want the right side of fabrics or the 'pretty side' to show.
Basic Instructions:
Start with pre-pressed scrap pieces of fabric.  Cut a 10″ x 10″ square of backer fabric and batting.  

Create your fabric sandwich like so:  muslin or backer fabric wrong side up, a layer of batting, and then your 1st scrap positioned in place right side up.
The 1st layer of scrap fabric should be an old shape created from straight lines and can even be a little off-kilter. Place and pin the scrap towards the upper corner of the square; right side or pretty side up. All around machine stitch fabric scrap in place.
Now, let the games begin! Starting with a fabric scrap long enough to cover the base layer, place right sides together and stitch 1/4″ from the edge; flip fabric strip over and press.  (this is called the stitch and flip method.)
Repeat the process all the way around your 1st scrap, overlapping each layer as you sew.
Continue to add on by layering and building on top of each piece.  It is important to always use the same seam allowance and cover the previous stitch line.  Don't forget- pressing counts too!
After you have filled your square with fun fabric scraps, press one more time and trim off all extra fabric to return the block to 10″ x 10″.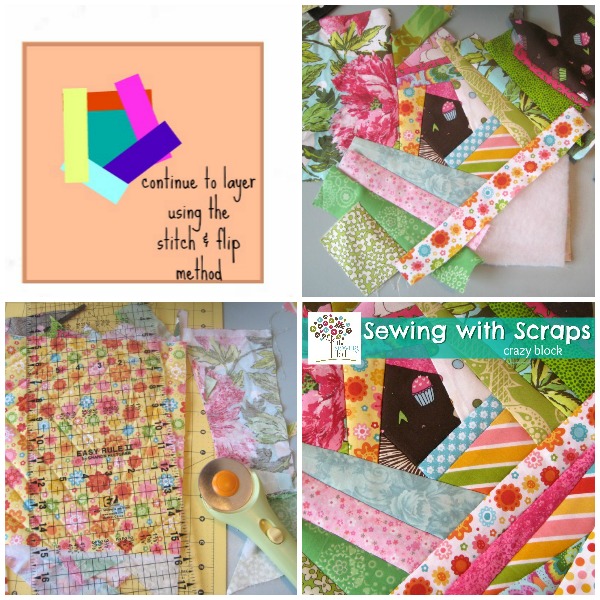 *This blog post has been converted to an optional PDF that's optimized for printing and ad-free. Find more here. The blog post is totally free to read, print, and sew! The PDF tutorial & download for $2 is totally optional.
Tips for Sewing with Scraps:
Pressing counts- big time!  Pressing after each piece will keep your fabric smooth and prevent unsightly puckering.
Uniform seam allowance is your friend.
Trim away excess fabric only after you have flipped and pressed your scrap in place.
Combining fun prints and wild colors will create amazing blocks.
Wow, I just love it when my scrap basket turns into something amazing.  I think my day of sewing with scraps was a success! Now, the million dollar question is what should I turn this crazy block into?  I have an idea but would love to hear suggestions from you.  Leave a comment below or on the facebook page.
And if you need  more inspiration for stitching up your fabric scraps – check out this awesome list!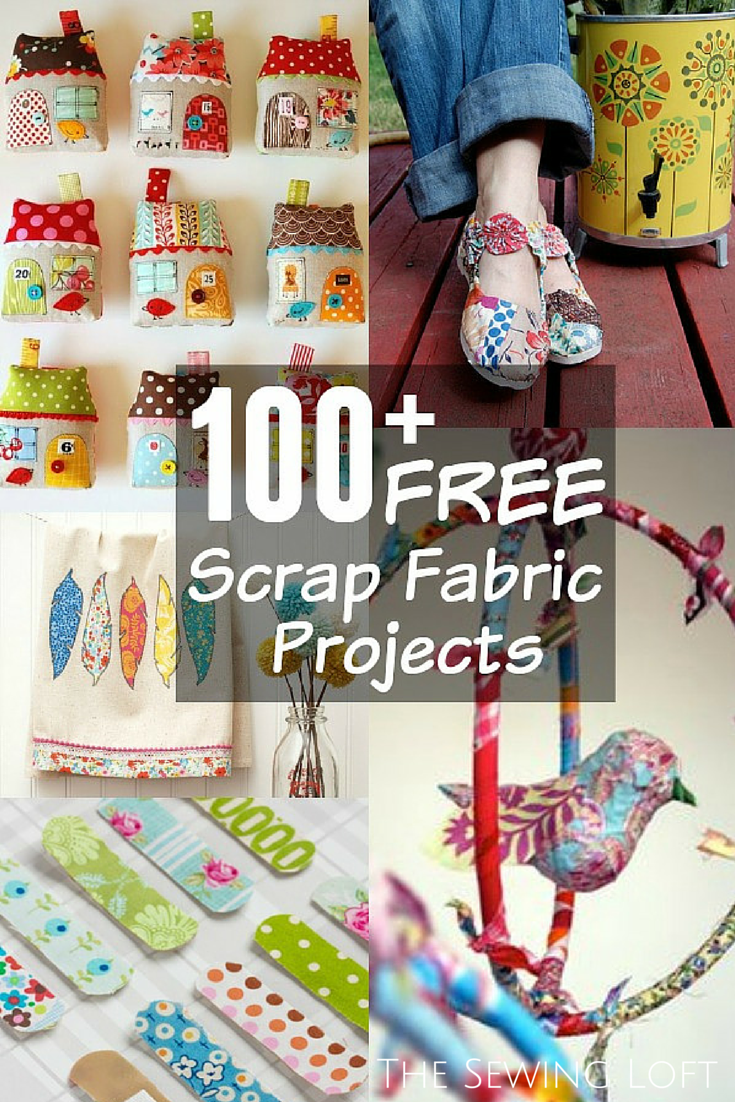 ps- to help stir your creative juices while sewing with scraps, this tutorial is being used in the SewCanShe Crazy Quilt Block Sewalong from April 20th through May 18th.  So, let's get your scrap basket all cleaned out and your crazy block project entered to win some fabulous prizes!