Swap etiquette is a delicate balance. I mean, what if you have never participated in one before and have no idea where to start? Well, have no fear, let's start at the beginning and talk "SWAP".
SWAP = Share With A Pal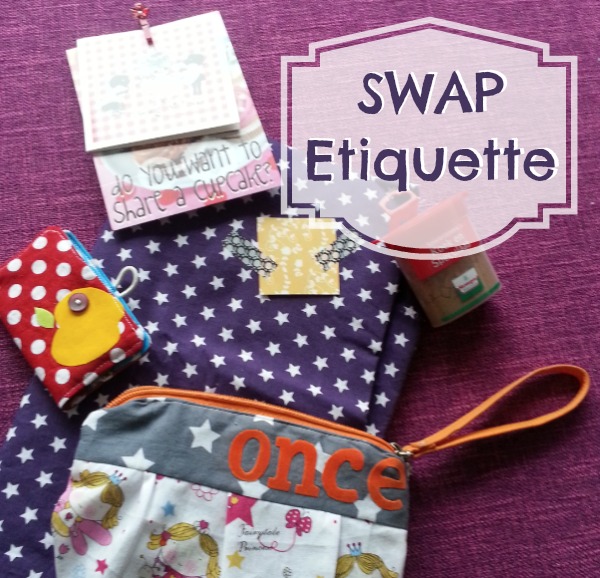 If you were a Girl Scout (former scout and leader here) you might remember that SWAPS are hand made pins created for trading and collected from one another. In scouts, SWAPS stands for Special Whatchamacallits Affectionately Pinned Somewhere. Another meaning for the acronym SWAP is Share With A Pal. I've always used the first one with my troops, but the second works for all other swaps especially among handmade communities like ours.
Lets start with the basics.
Swap can range from a specific handmade project or theme like a

zippered pouch

 to a simple trade of product like fabric or 

trims

. It is best to fully understand this requirement before committing.
The ship date is critical! This date is set in stone. It is better to be early when shipping out your package then sending something late. If the ship date does not work for your schedule consider waiting for the next swap. * There is nothing worse than anxiously waiting for something to arrive and being greeted by an empty mailbox each day.
Think of your swap as a gift. Consider taking the time to creatively package your swap. It does not need to be over the top fancy. In fact, it can be as simple as a ribbon tied around tissue paper or even a quick sketch on the outside of the package. Here are a few examples:  
It is fun to take pictures along the way and share your experience with other swap partners. Everyone enjoys seeing the fun goodies being traded all over the world. Here are examples of swaps within our

community

.
Above all swaps are all about sharing, having fun and the thrill of the surprise!
A few things to keep in mind:
If asked for any color and style preference please keep in mind that these are suggestions only. Your swap partner is not creating a made to order gift and would like to add their creative stamp to the project.
From time to time you may receive a package that you not over the moon with, please remember that it was made with the purest of intentions and perhaps the simplest of skills. Be kind with your comments and understand that everyone has different skill sets and taste levels.
Be sure to put your best foot forward, read guidelines and share your best intentions.
While my first experience with swapping was as a young Girl Scout, I have fallen in love with participating in them within the handmade community. The thrill of receiving a package in the mail always makes me smile.  Here are a few examples of past goodies.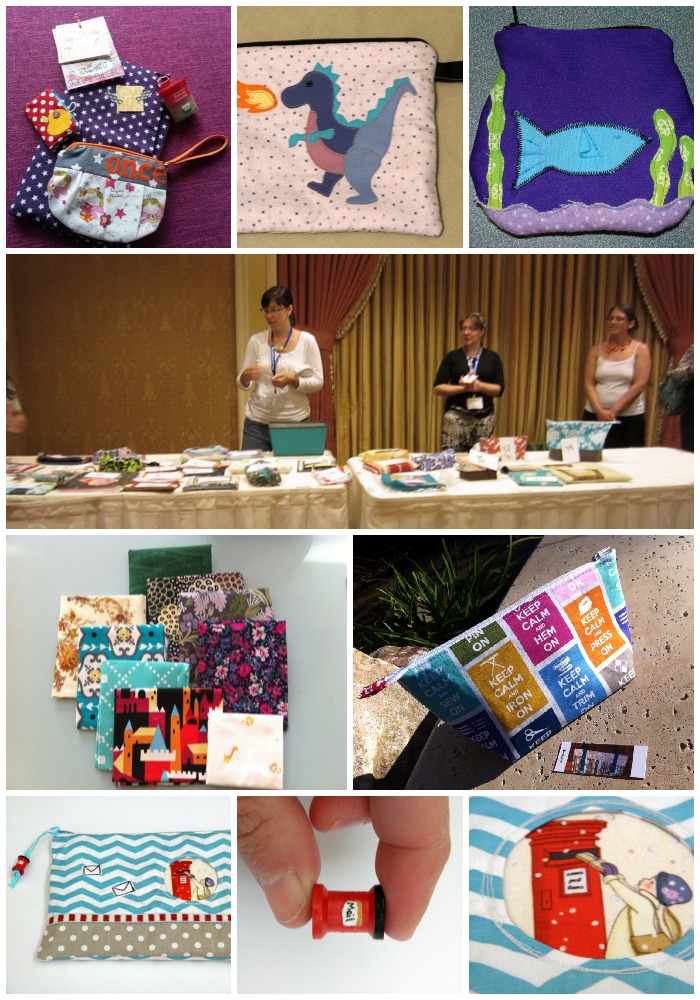 To sum things up, swaps are all about having fun, sharing your creativity and making new friends. So, if you have never participated in a swap before and don't know where to begin, I say don't be shy – jump in, the fish won't bite. Be sure to read the guidelines for each swap, be ever so mindful of the ship dates and don't be afraid to ask the host questions. By following these simple guidelines and sharing your best intentions you will not only receive a wonderful surprise in the mail but hopefully you will make a new friend along the way.
Still looking for more: Swap-bot has a fantastic glossary of swap terms and shares updates on snail mail swaps.

ps- The Sewing Loft is now hosting simple swaps with Scrappy Girls Club. They are a great way to try stretch your skills and meet a new sewing buddy. Visit here to see the current  SWAP exchange and sign up here for SWAP updates. 
Hello! Are you new to The Sewing Loft?

If so, I'm glad you stopped by and hope that something has inspired you to keep your needle moving!  Don't miss a single project and subscribe via email HERE! Bonus- free embroidery pattern with newsletter sign up.  Another great way to connect with me is via Facebook, Pinterest, Twitter, Google+ or Follow my blog with Bloglovin.  I'm looking forward to getting to know you and creating together!