A few weeks ago I created the crazy square block.  It was super fun and an easy way to clean out my scrap basket.  However, I needed to turn the blog into something functional.  So, with summer on the way, I thought I sunglass case would be the perfect fit for Lady A. (My sunglass queen!)
Funky Sunglass Case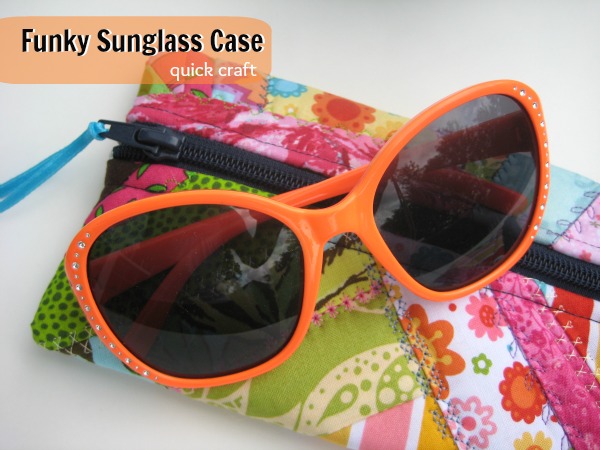 This project is for stitchers of all levels.
Skill Level- 1 Button
Materials:
Tools:
Basic Instructions:
Pin your zipper in place along top edge of square. Attach your zipper foot to machine and straight stitch your zipper in place.
Trim away excess bulk of material between zipper and stitch line. *Be careful not to cut the zipper tape when trimming.
Turn zipper tape down towards inside of case and straight stitch in place. This will clean finish your closure edge.  *Note: I used a dark thread and would recommend using a white thread or something that will blend. Repeat steps 2 and 3 on the other side.
Then zip your square closed and determine the position of your opening.  I like mine off-center.  Turn wrong side out and pin sides in place.  Straight stitch each side closed. Repeat to other side.
The sides can be clean finished with seam binding or left raw. It's really up to you.
This sunglass case was extremely easy to make and was finished in less than 30 mins.  Really fast!

Hello! Are you new to The Sewing Loft?

If so, I'm glad you stopped by and hope that something has inspired you to keep your needle moving!  Don't miss a single project and subscribe via email HERE! Bonus- free embroidery pattern with newsletter sign up.

Another great way to connect with me is via Facebook, Pinterest, Twitter, Google + or Follow my blog with Bloglovin.  I'm looking forward to getting to know you and creating together!