It seems like summer just flew by, doesn't it? It's already time to start gearing up for Back to School, but don't worry – we've got your inspiration covered with this roundup of over 100 DIY projects for back to school fun!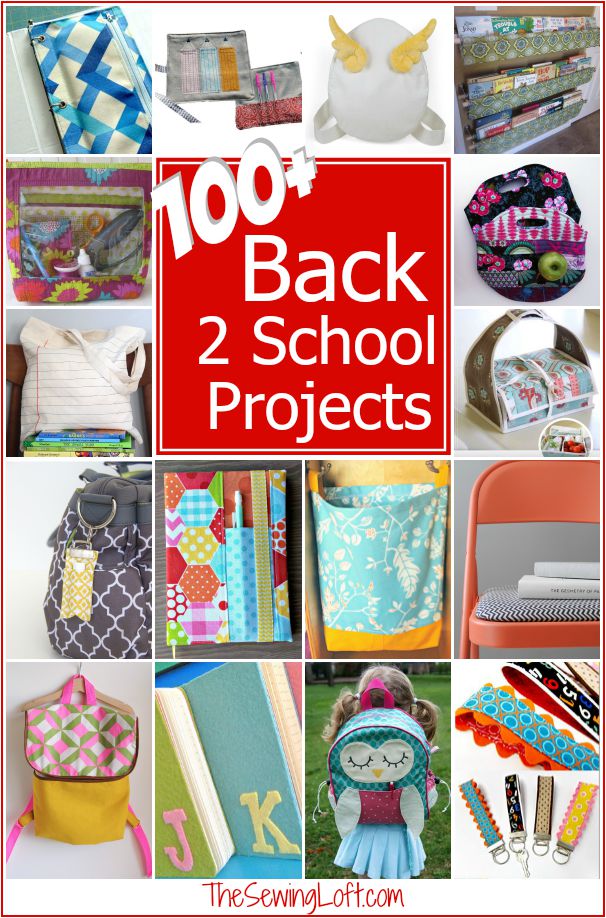 This list is pretty intense. It covers everything from pre-school to college dorms… Wow, that's a bunch! So, before you need to head back to school, be sure to check out these projects and send a little handmade off to class with your little one. (no matter what their age!)
100+ Back to School Projects

Bags & Backpacks – Hold all their gear in comfort and style!
2. Back to school backpack (pictured)
4. Cardcaptor Sakura Egg Backpack (pictured)
6. DIY Backpack
8. Liberty bags
10. Little hitchhiker backpack
12. Messenger bag
13. Messenger bag from cargo pants
14. Monster backpack
16. Notebook bag (pictured)
17. Nothing but a hound dog backpack
18. Owl tag along toddler backpack photo worthy
20. Retro rucksack
21. Satchel

Lunch Time – Pack a healthy snack and some love from home.
25. Bento box pictured
26. Furoshiki
32. Lunch sack
33. Mushroom lunch sack (super cute!)
35. Simple lunch bag
36. Snack baggies
38. Zipper lunch box

Nap Time – Let them rest comfortably with something all their own.
39. Nap mat
40. Nap mat with applique name
41. Pillow lounger

School Supplies – From notebook to pens, they'll be ready for any assignment!
42. 3-ring zipper pouches (loops)
43. 3-ring zipper bag (grommets)
44. Binder bandolier (great idea!)
45. Book jackets
48. Crayon roll
49. Fabric covered notebook (pictured)
50. Fabric journals
52. Felt notebooks (pictured)
55. Notebook cover
56. Pencil toppers
57. Pencil wrap (pictured)
59. Pom pom pens
61. See through bag (pictured)
62. Sleeping bag pencil pouch (I LOVE this one!)
64. Travel art roll
66. Washi tape notebooks Me & washi tape are perfect together!
67. Zippered school supplies case
68. Don't forget our list of over 100 zipper pouch patterns!

In the Classroom – You'll be the teacher's pet when you whip up some creativity for the classroom.
69. Crate stools
70. Locker/cubby tote (pictured)

For the Dorm – Send your kids off to college in style.
73. Craft room chair
74. Dorm bed canopy
78. Folding chair makeover (pictured)
79. Laundry hamper
80. Ottoman

Storage & Organization – Keep track of paperwork and supplies for homework time.
81. Art tote
82. Book slings (pictured)
83. Mail organizer
84. Pencil holders
85. Wall organizer

Learning at Home – Whether you've got a preschooler, a homeschooler, or you just want some after-school fun; it's all here.
88. Kids' art bunting (use that art they bring home from school!)
89. Lap desk
90. Matching game
91. Puzzle pockets
92. Rag quilt letters & numbers
93. US scrap map ,  Wall map 

Miscellaneous – Even more goodies & gear to start the year off on the right foot.
94. A+ T-shirt
95. Award necklace
96. Apple bookmark,  Button bookmarks, Mustache bookmark
97. Chapstick holder (pictured)
100. Key fobs (pictured)
101. Little lanyard
102. Pen holding bookmark
103. Pocket heart
Don't forget to print off this shopping guide and grab a few extra goodies for your sewing space while shopping for the kiddo's.

** Disclosure: This post contains links to brands that I am affiliated to, believe in and feel add value to our sewing community.
Hello! Are you new to The Sewing Loft?

If so, I'm glad you stopped by and hope that something has inspired you to keep your needle moving!  Don't miss a single project and subscribe via email HERE! Bonus- free download with newsletter sign up. Another great way to connect with me is via Facebook, Pinterest, Instagram, Google+ or Follow along with Bloglovin.  I'm looking forward to getting to know you and creating together!