February is National Embroidery Month and I wanted to celebrate in style. So, I've rounded up over 100 free embroidery designs to help keep you inspired!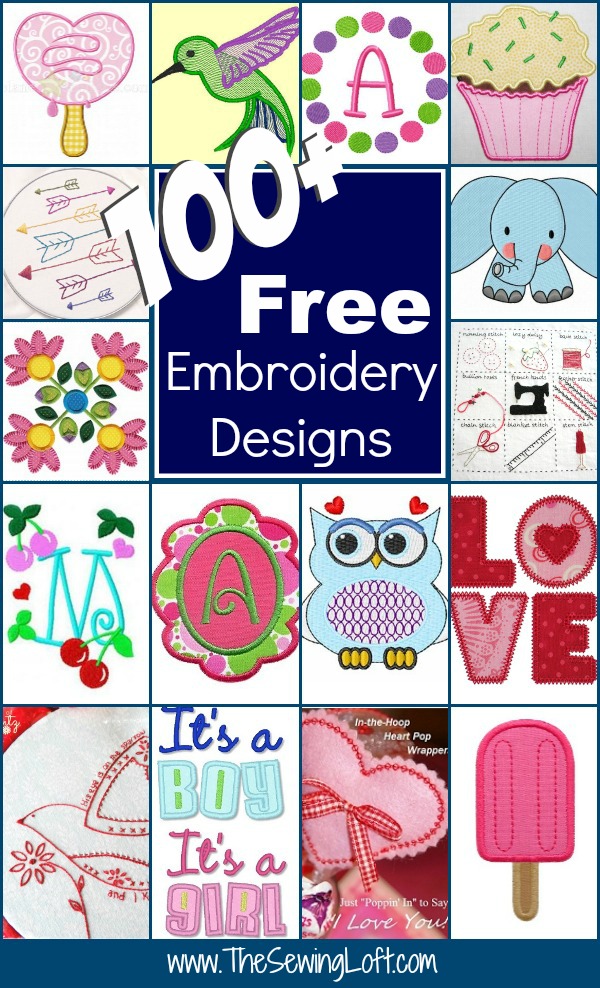 100+ free Embroidery Designs
Remember that there are all different types of embroidery designs on the market today.  Hand Embroidery, Machine Embroidery and Applique. Many of these designs are available in different size hoops and file formats to work with your machine. Be sure to check all information before downloading each design.
Take your time, enjoy the list and be sure to PIN THIS free embroidery designs round up for easy reference later.

Animals are cute and cuddly so it's no surprise that the fury friends are all the rage in the embroidery world.
1. Bear Face  applqiue
2. Bee  applique
3. Blue Birds  hand embroidery
4. Bunny  hand embroidery | machine embroidery
5. Butterfly 
6. Butterfly Mini can be applique
7. Crab  applique
8. Deer
9. Elephant pictured
10. Fish  applique
11. Frog Face  applique
12. Hedge Hogs  hand embroidery
13. Hummingbird pictured
14. Ladybug/Flower
15. Mermaid
16. Owls pictured
17. Paw Print  applique
18. Reindeer
19. Sparrow  hand embroidery Just beautiful! pictured
20. Turtle 

Customize it in a whole new way with these special fonts.
21. Back to School
22. Cherry Letters pictured
23. Monogram Alaphabet hand embroidery
24. Scary perfect for Halloween

Draw attention to your work with a special frame. Plus, for all those quilt lovers out there- these are a great way to make a unique label!
25. Aquarium Frame 
26. Chic Frame
27. Fancy Frame
28. Football Frame
29. Multi Circle Frame  pictured
30. Scallop Edge Oval  applique, pictured
31. Wave Frame  applique

In the hoop embroidery is growing in popularity. So, if you have never tried one, now is the time! All of the work is completed in the embroidery hoop and little additional sewing is needed.
32. Christmas Suckers
33. Goodie Bag 
34. Heart Wrappers pictured
35. Pumpkin Pencil Topper 
36. Tic Tac Toe Game

Hit start and put your thoughts in writing! These designs are ready for you to show how much you care in a very special way.
37. Cancer Awareness
38. Grandma's Rules
39. Happy Fall
40. Happy Holidays
41. It's a Boy/Girl pictured
42. Just Call me Cupcake
43. Land of the Free
44. Lil Bro/Lil Sis crazy cute!
45. Love  applique, pictured
46. Love Birds
47. Love Bug
48. Made with Love
49. Merry Christmas
50. Miso Cute applique
51. Mom's Favorite Saying
52. Pink Lady Breast Cancer Awareness
53. Princess
54. Some Bunny Loves You
55. Special Delievery 
56. Wanna Be a Cowboy

Skip the basic shapes and go for something fun!  From acorns to tea cups there are no boring shapes on this list. Just think how cute that store bought item will look with a little embroidery detail.
57. Acorn  applique
58. Apple
59. Arrows hand embroidery, pictured
60. Beaded Rose hand embroidery
61. Christmas Designs hand embroidery (includes 7 designs)
62. Christmas Light hand embroidery
63. Cowboy Hat applique
64. Clown applique
65. Cup Cake applique, pictured
66. Daisy Flowers I love the way these look!
67. Dress Form hand embroidery
68. Dress Maker Form
69. Doughnut
70. Easter Egg applique
71. Fall Scene
72. Fireman's Axe  applique
73. Floral Scroll
74. Flowers applique, pictured
75. Gift Box
76. Guitar  applique
77. Ice Cream Heart applique, pictured
78. Lace Hearts applique, comes in 6 sizes
79. Lavender Satchel 
80. Leprechaun Hat applique
81. Monster Truck
82. Mushroom applique
83. Music Note
84. Music Notes
85. Paisley
86. Peace Sign applique
87. Pear applique
88. Pirate Hook applique
89. Popsicle applique, so cute for summer! pictured
90. Princess Hat applique
91. Princess with Crown applique
92. Pumpkin  applique
93. Pumpkin Topper Mini Design
94. Santa Embroidery hand embroidery
95. Sewing Room Sampler hand embroidery, pictured
96. Shamrock applique
97. Skull 
98. Skull & Needles hand embroidery | machine embroidery
99. Snowflake  applique
100. Snowman
101. Tea Cup hand embroidery
102. Vintage Decor hand embroidery
103. Zenbroidery hand embroidery

Transform your embroidery into a fashionable cuff .
Create subway art with your machine.
Learn how to create french knots. 
Still want more? Here are a few classes on Craftsy that I think are pretty cool.
Don't have time to look through the designs now? Be sure to PIN this post of free embroidery designs for later.

ps- Check out these round ups for more free patterns and projects.
Hello! Are you new here?

Do you want to learn more about sewing? If so, be sure to sign up for our newsletter HERE and never miss a stitch! Daily Sewing Tips, Everyday Projects and Fantastic Inspiration delivered straight to your mailbox!

Bonus– free download with newsletter sign up.

Feel free to connect with me on Facebook, Pinterest, or Instagram.  I look forward to getting to know you and stitching up a storm!