You may have noticed that I've been on a mission to wrap up every UFO in my drawer this year so when I found stack of orphan blocks I knew they were perfect for a checkered pillow cover.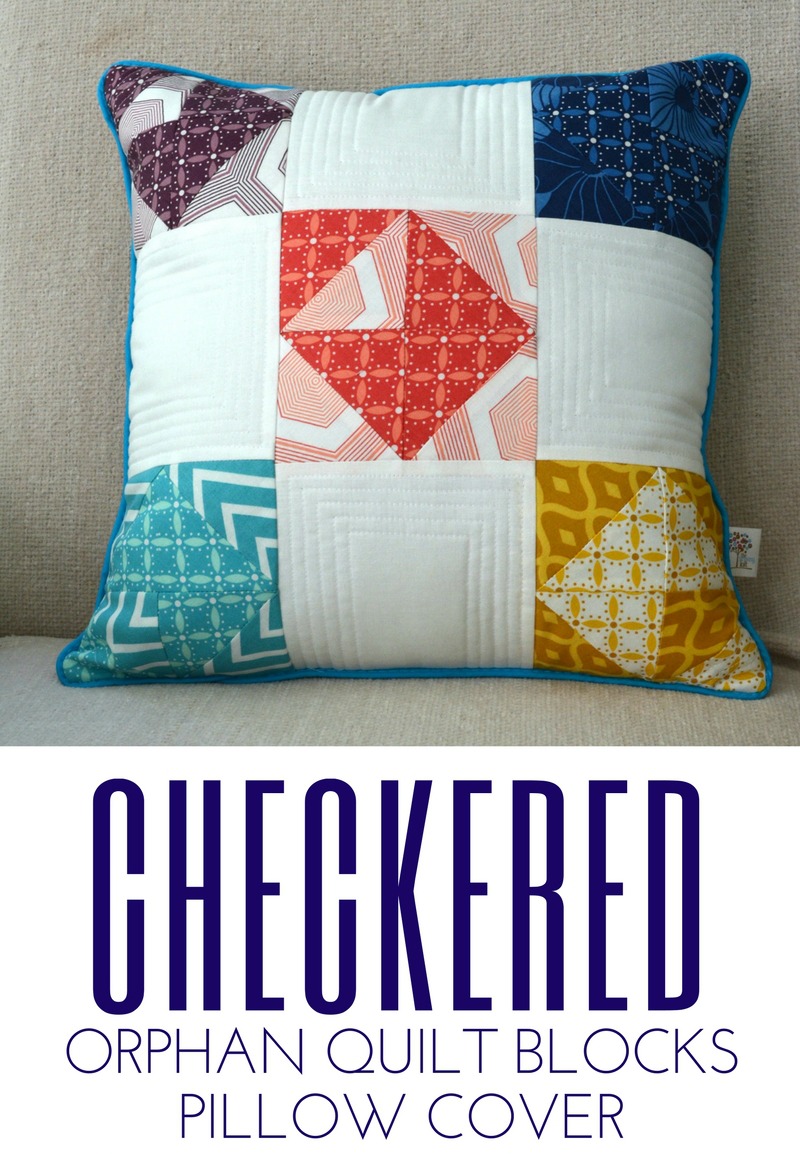 Checkered Pillow Cover
This project is for all levels.
Skill Level- 1 Button
Not only is this checkered pillow project perfect for orphan quilt blocks but the layout lends itself to even simple solids.
Supplies:
(4) 6″ squares solid fabric
(5) 6″ quilt blocks of choice
fat quarter fabric for pillow backing
zipper & piping are optional
Tools:
*Note that this project can be made in any size to fit your pillow form. Not only will the layer of batting act as a stabilizer for the fabric scraps but it will help maintain a smooth outlook on your pillow. I add this to all of my pillow covers to extend their use.
Cutting Instructions:
Start by cutting (4) 6″ squares of your favorite solid fabric and selecting (5) 6″ orphan quilt blocks. I am finally using these blocks that I made eight months ago. Shame on me for never finishing my project!!
Sewing Instructions:
Position 6″ squares to create pattern layout. Using 1/4″ seam allowance, join right sides together and press. Repeat to create 3 rows.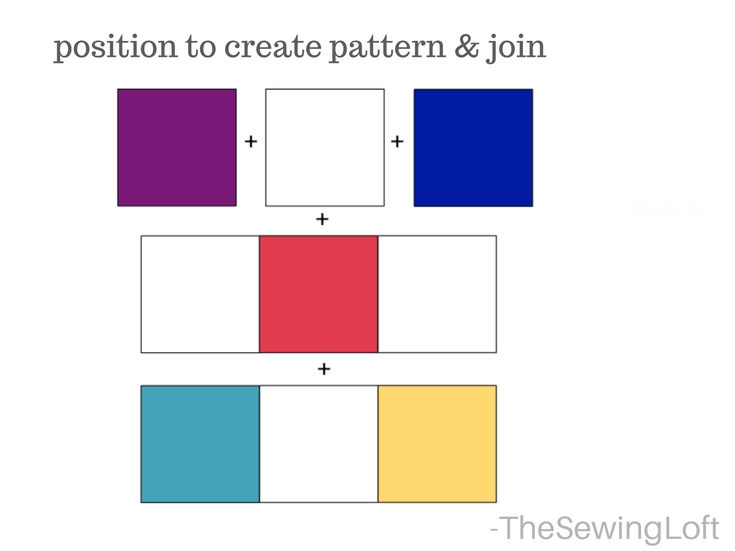 Join each row together; press. Layer pillow face right side up on a 18″ x 18″ square of batting; top stitch as desired. I used a  quilting patchwork foot with guide to keep my lines evenly spaced and straight.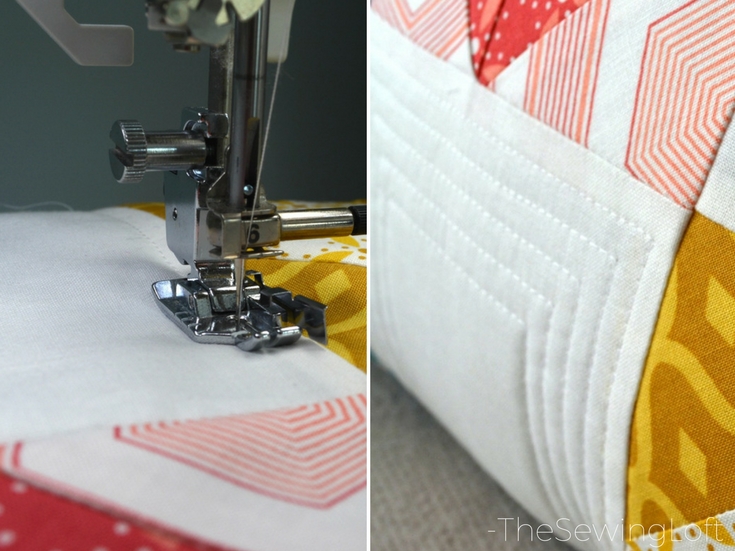 Trim and square the pillow top to 17″ square once you are happy with the topstitching. I added a baby piping trim detail all around for an extra splash of color.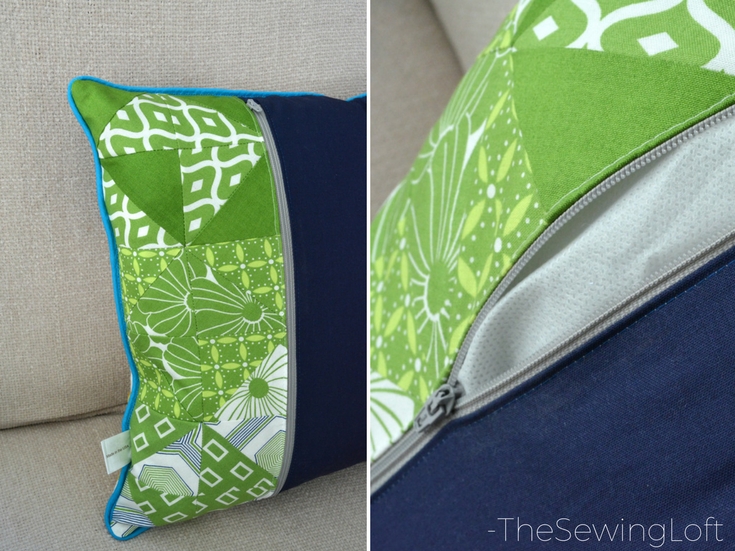 Determine and attach your backer fabric with closure method of choice; trim corners and turn right side out.  You can see that I had a few extra blocks and included them on the back. Doing this is a great way to keep both the front and back interesting.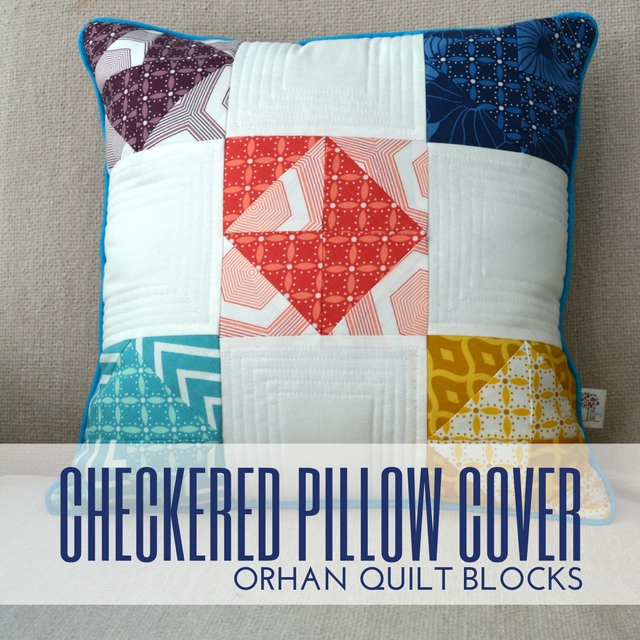 Slip pillow form inside cover and find the perfect spot to showcase your handy work!
IMPORTANT PILLOW MAKING TIPS:
Pressing counts- big time!  Pressing after each piece will keep your fabric smooth and prevent unsightly puckering.
Uniform seam allowance is your friend.
Trim away excess fabric at each corner for a clean point.
How do you use your orphan quilt blocks?

**Special thanks to Fairfield World for their continued support of The Sewing Loft. Working with their products is a pleasure!
Hello! Are you new here?

Do you want to learn more about sewing? If so, be sure to sign up for our newsletter HERE and never miss a stitch! Daily Sewing Tips, Everyday Projects and Fantastic Inspiration delivered straight to your mailbox!

Bonus– free download with newsletter sign up.

Feel free to connect with me on Facebook, Pinterest, or Instagram.  I look forward to getting to know you and stitching up a storm!