Have you ever found a fabric that made you melt? Well, that is how I felt when I got my hands on Good Vibes Only by Michael Miller. The fun prints and super soft hand feel made me want to cuddle up with a Double Slice remix.
The fabric collection is perfectly named and each print just screams summer. From beach days to starry nights, the possibilities are endless. The collection comes in both quilting cotton and a minky.
For this project, I am working with the minky. Minky has a low pile, directional nap, and a wonderful sheen. It is almost like faux fur and the characteristics are very different than your standard-issue quilting cotton.
Since I didn't want to worry about the print or pile direction, I knew the design had to be random and I took inspiration from my Double Slice quilt. To allow the prints to take center stage, I increased the overall size of my blocks to 13″ unfinished. This made sewing so much faster. Here is my fabric pull.
You can see that I added a solid black from their Cotton Couture Collection and a long pile, beary soft in pink to balance things out.
One look at my video and I'm sure you'll understand why my biggest pet peeve is the shedding of the longer pile fabrics. I can truly say that I sat at my cutting table with the vacuum machine right next to me. I would slice a few pieces and then suck up all the leftover bits. This helped prevent the fibers from floating around in the air and getting everywhere.
Once I got through cutting, the sewing was a breeze. This design is really very easy to put together and thanks to chain piecing and my handy seam ripper, I was able to complete it from start to finish in just an afternoon. That's a total win in my book and Tucker did not seem to mind.
After I stitched up the top layer, I decided not to follow traditional quilting methods. Instead, I skipped the batting and clean finished the top with a solid layer of backing. Thanks to the 58″-60″ wide fabric width, no seaming was needed.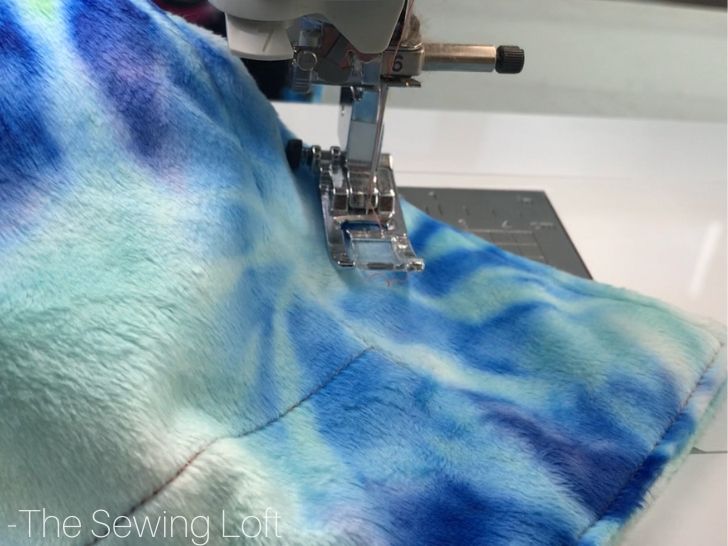 Then, it was a couple of quick spins around my Baby Lock Altair for a finish. I clean finished the opening with an all-around edge stitch and then went back around 2″ away from the edge. This will help keep things in place and prevent rolling while in use.
My daughter claimed it instantly and said she was bringing it to the beach this weekend. I have a funny feeling, it will never leave her sight!
Double Slice Remix Quilt
Please remember that there is a learning curve when working with minky or Cuddle™ fabrics. The pile fabric is a knit construction. That means, it can shift, stretch and be tricky at times. Luckily, I have shared a TON of my best sewing tips here to help keep you on track.
ps- don't forget to clean your machine!
As a brand Ambassador for Michael Miller Fabrics, these fabrics were provided. You can find these fabrics at your local quilt shops and see the full lineup of the Good Vibes Only collection here.