While it was fun to celebrate Christmas in July last week, I'm excited to jump right back into summer sewing with a new block in the series. This week's latest Blocks 2 Quilt addition is the Ice Cream Cone Quilt block.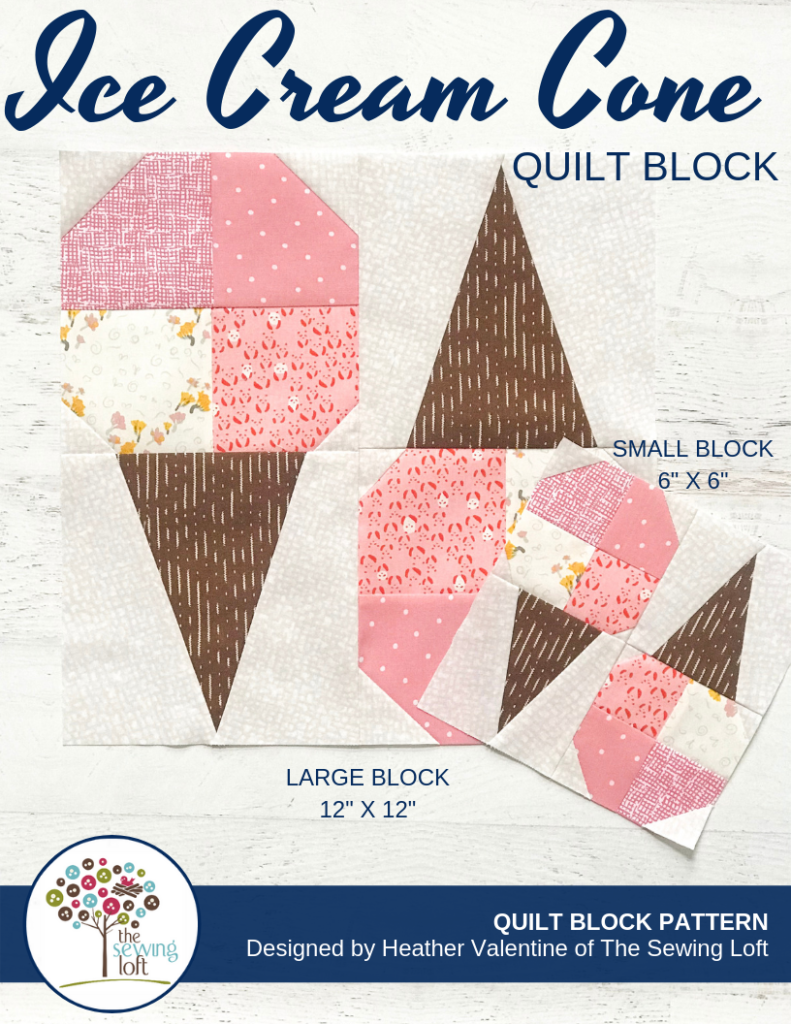 Growing up ice cream cones were such a summery treat. Some of my fondest memories involve the hot planks of the boardwalk along the New Jersey shore and a chocolate chip ice cream cone. The cones posed a challenge in the summer heat. The goal, to avoid drips on the base of the cone!
It's funny how my tastebuds have changed over time. While I still enjoy the refreshing taste of mint, I tend to have a wider pallet these days.
Ice Cream Cone Quilt Block Details
Each finished Ice Cream Cone quilt block measures-
6″ x 6″ (15.2 x 15.2 cm)
12″ x 12″ (33 x 33 cm)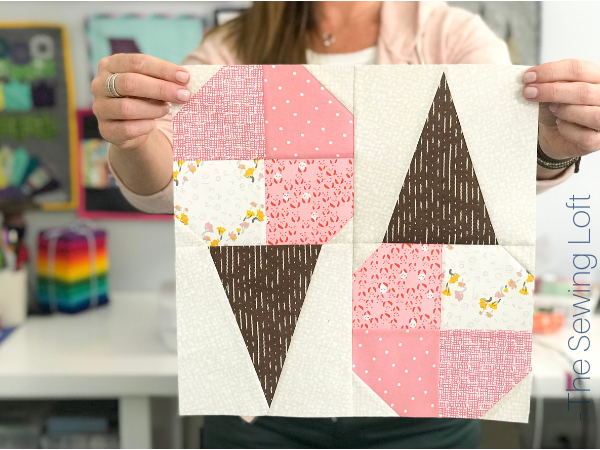 Material & Tool Supply List:
Assorted Scraps: Pink, Tan & Background Prints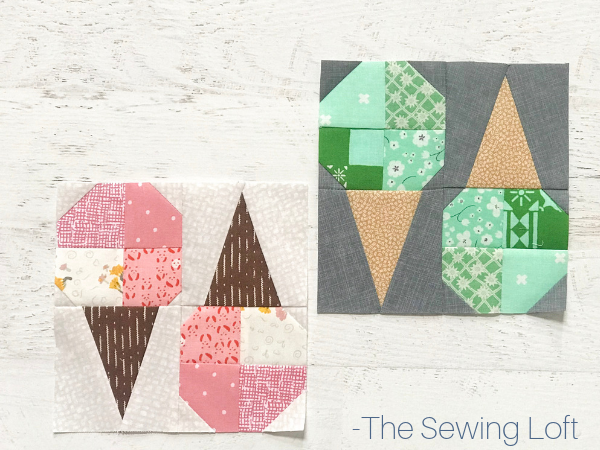 There are so many options with this sweet treat of a block. From your favorite flavor to the latest concoction your local creamery can churn up. This block is perfect.
Even though this adorable block has an isosceles triangle design, it requires no templates or special rulers. Instead, I show you just how easy to create this design with simple patchwork pieces.
Don't let that sharp triangle fool you, the Ice Cream Cone quilt block is perfect for the confident beginner.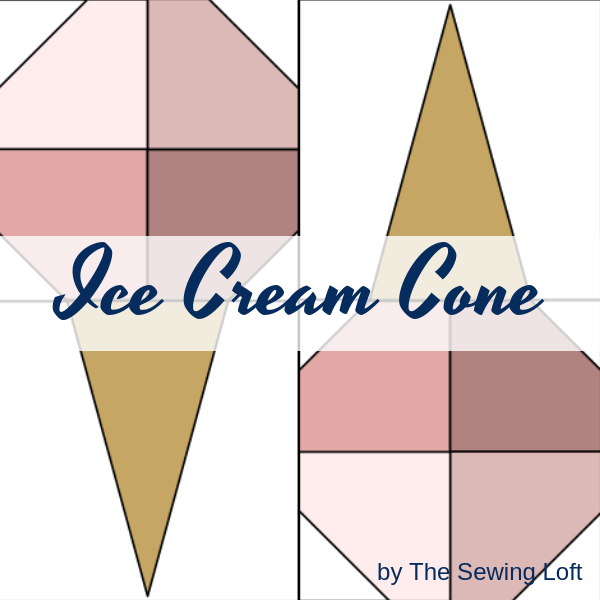 You can add the Ice Cream Cone quilt block pattern to your library for free until August 8th, 2019, after that it will be available for sale in the shop.
No matter what flavor you fancy, the Ice Cream Cone quilt block will make a wonderful quilt when paired together with the Lemonade Spritzer, the Summer Ice Pop, and Cocktail Hour.
Pinnable Ice Cream Cone Quilt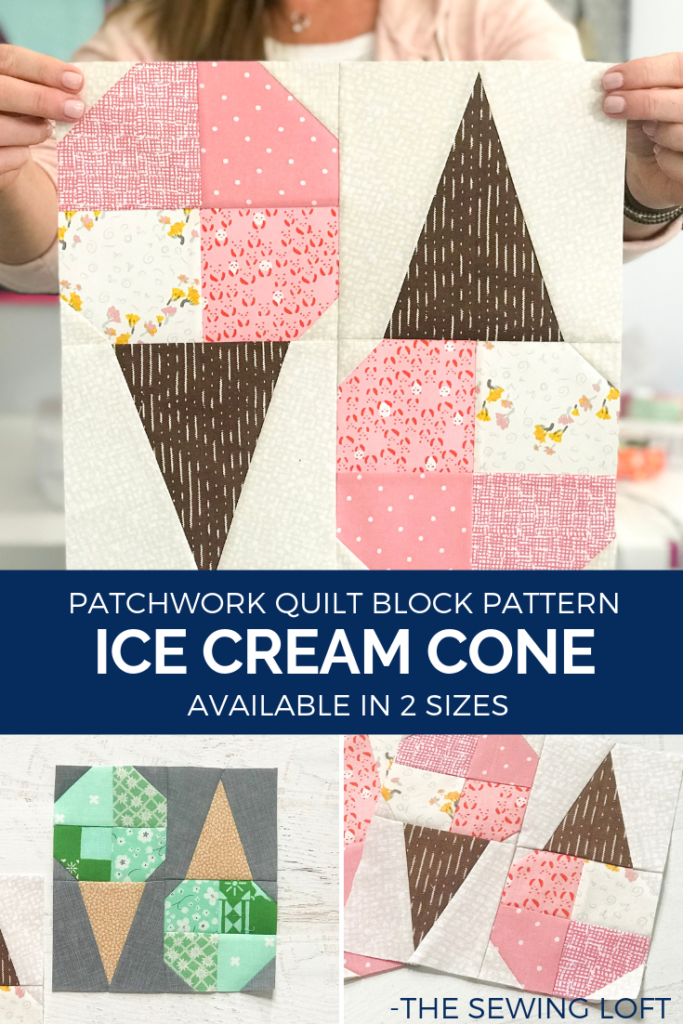 Remember the Blocks 2 Quilt series is a year-long program to help build your block library and improve your skills. Be sure to sign up for my newsletter here and never miss a block.

Hello! Are you new here?
Looking to learn more about quilting & sewing?

Be sure to sign up for our newsletter HERE and never miss a stitch! Daily Sewing Tips, Everyday Projects, and Fantastic Inspiration delivered straight to your mailbox!

Bonus– a free download with newsletter sign up.
Feel free to connect with me on Facebook, Pinterest, or Instagram. I look forward to getting to know you and stitching up a storm!