Thrifting and all things vintage are a great way for me to recharge my creative side.  I just love this type of shopping and last weekend I found these really cool vintage feed sacks.  When I bought them I had no clue what I was going to make but inspiration quickly came in the form of an oversized bag.
 Oversized Bag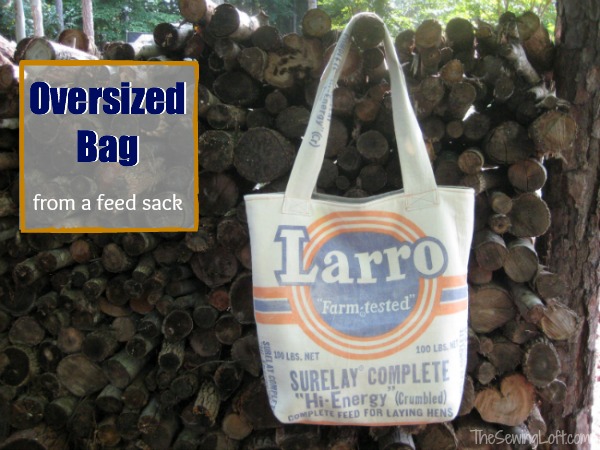 This project is for all levels.
Skill Level- 1 Button
Supplies:
vintage feed sack
medium weight lining
fusible fleece (I used Pellon TP971F)
20″ of thick cotton cording
*Since feed sacks come in different shapes and sizes, this tutorial will focus on the how to instructions.  My oversized bag finished measurements were 21″ wide x 18″ tall and 6″ deep.
Tools:
sewing machine
pins
scissors
iron and ironing board
Basic Instructions:
1. The 1st thing I did was clean my vintage treasure, open the seam and press.
2. Cut and size your bag.  Be sure to consider the print or any markings on your feed sack.  Cut lining and fusible the same size.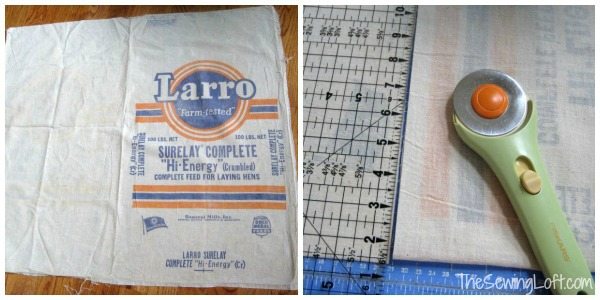 3. Since the muslin feed sack bag is light weight, I added a layer of heavy fusible fleece to wrong side. Not only does this add strength to my bag, it provides additional rigidity. Attach fusible to the wrong side of feed sack following manufactures instructions.  Sew sides and bottom together.
4. Create mitered corners match the side seam to the center of bottom; fold.  With your straight ruler, draw a line 3″ from the point; draw line.  This is your stitch line.  Straight stitch across this line.  I like to stitch twice for security.
5. To create straps cut 4 pieces of fabric 3″ w x 34″ L.  Stitch long sides together, turn and press. *Note you could easily cut 2 pieces 5″ W x 34″ L but I did not have enough of the feed sack left and needed to use a layer of lining. Repeat to make 2 handles.
6. Position and center 10″ of cording on the center of strap; fold over, stitch and encase cording to prevent from slipping.  This is a similar technique to the rolled handbag handles.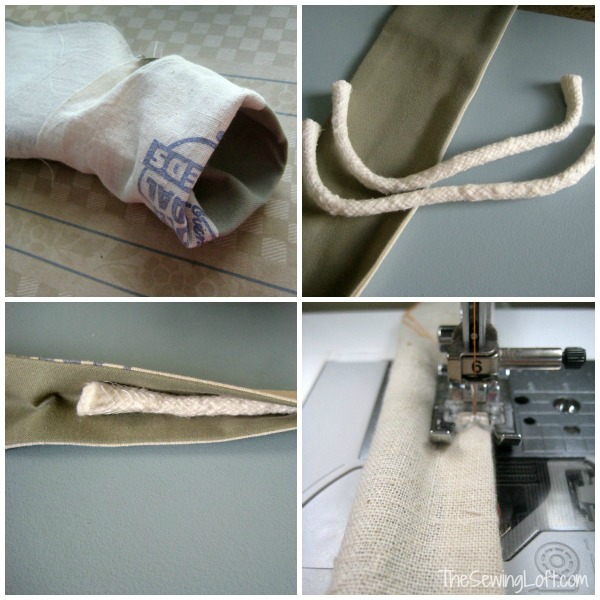 7. Position and attach your handles.  I boxed and X stitched for additional security.
8. Add any pockets to outside of bag.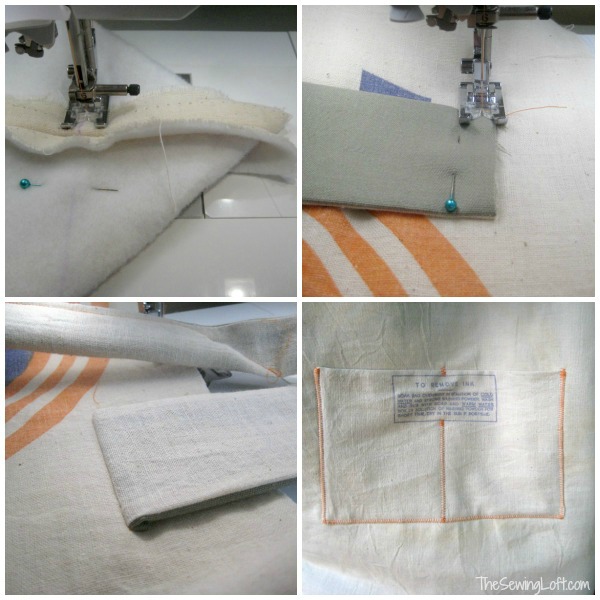 9. Repeat process for lining, attaching at the top edge. Turn bag right side out; press, close seam and add any addition top stitching details.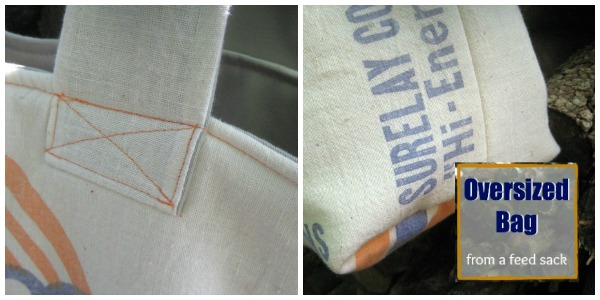 I used every last inch of this feed sack and I love the way my bag turned out.  Now, I'm ready for the next treasure hunt.

Hello! Are you new to The Sewing Loft?

If so, I'm glad you stopped by and hope that something has inspired you to keep your needle moving!  Don't miss a single project and subscribe via email HERE! Bonus- free embroidery pattern with newsletter sign up.

Another great way to connect with me is via Facebook, Pinterest, Twitter , Google + or Follow my blog with Bloglovin.  I'm looking forward to getting to know you and creating together!