Nothing says summer quite like the beach. Here is a list of easy to make things to use during your next family vacation at the shore, and then ways to bring the beach back home with you to remember all summer long!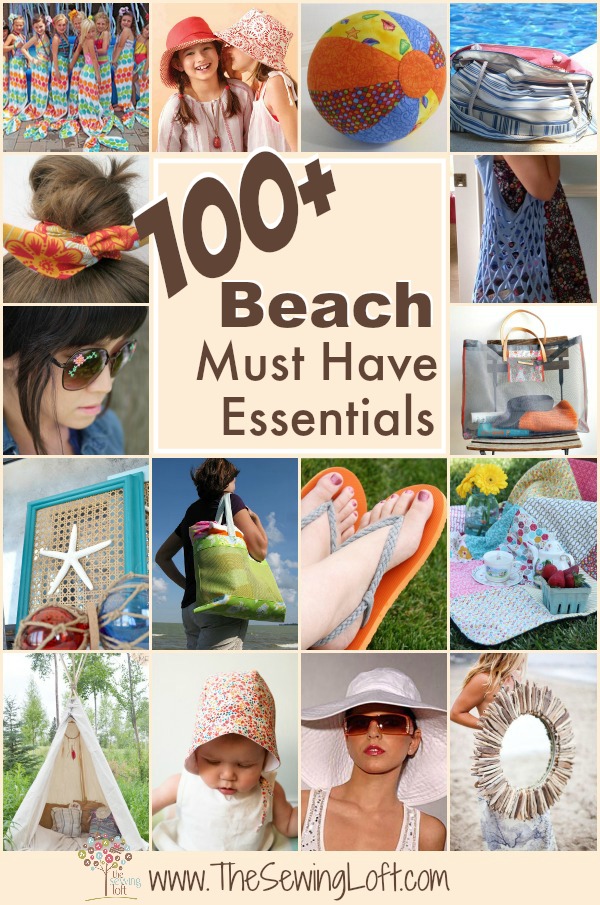 100+ Beach Must Haves
This list of over 100 beach must haves is jam packed with fun ideas to keep the fun rolling all summer long! Be sure to PIN THIS post for easy reference.

Carrying all of our "stuff" to the beach has never been easier with this list of bag patterns.
4. Mesh beach bag (pictured)

5. Mesh screen beach bag (pictured)
8. Patacona Beach Bag (pictured)
9. Plastic bottle zipper container
11. Simple summer tote love the rope detail
12. Summer bag with leather straps
13. Tote bag fun
14. Tshirt bag (pictured)
15. Tshirt beach bag
17. Waterproof bag
19. Water resistant phone pouch I need to make this!
20. Wet bag

Stay dry this summer with these towel ideas.
24. Car seat covers
26. Easy picnic quilt (pictured)
27. Hooded towel
28. Mermaid tail towels totally cute! (pictured)
29. Tote-able towel
30. Waterproof picnic blanket includes video class

The sun can be strong at times and we need to cover up. Be protected in style with these easy to make cover ups.
32. Beach Dress
33. Chic beach wrap
34. Cover-up scarf
36. Kimono shawl video
38. Palazzo pants
39. Perfect Swim Cover Up great for any age!
40. Pom pom cover-up so much fun!
41. Pom pom shorts 
42. Posh Cover Up crazy cute!
44. Tie dye cover-up
45. T-shirt cover-up

Don't forget your feet. These stylish designs are the perfect accessory to your outfit.
47. Braided strap flip flops (pictured)
48. DIY Sandals
51. How to make your own sandals
53. Wrap sandals

Get up and stay active with fun games.
54. Beach Ball (pictured)
55. Cornhole board
59. Pool noodle pirate raft coolest thing ever! video
60. Pool raft toy
61. Sponge ball toss
62. Yard Yahtzee

Top off your outfit with some headgear. From baby bonnets to sun visors, there is something for every style.
63. Baby sunbonnet (pictured)
66. Reversible hat (pictured)
68. Rockabilly headband (pictured)
70. Turban headband
71. Vintage Cone Hat
72. Wide-brimmed summer hat (pictured)

73. Easy beach tent
74. No-sew teepee (pictured)
75. Portable windscreen a must have!
76. Simple DIY tent
77. Simple sit-upons

Fuel up in style with these snack time summer ideas.
79. O-ring water bottle holder
81. Picnic bag
82. Picnic basket

Create shade in an instant with sunglasses! Sunglasses are an every summer day must have. Be sure to keep them protected with these fun ideas.
86. Embroidered sunglasses (pictured)
90. Sunglasses case

Turn your day into a memory maker with these easy home decor projects.
92. Coastal seashell wall art (pictured)
93. Driftwood mirror (pictured)
95. Memory ornaments
97. Sand bowl
98. Sand footprints
100. Seashell planter
101. Shell hair pins
102. Silver leaf shell necklace

And if you're still looking for more summer inspiration after you PIN THIS Beach Must Haves post, be sure to check out these:
** Please note, this post contains links to brands that we are affiliated to, believe in and feel add value to our sewing community. Anytime you order through an affiliate link offered on this site, you help sponsor The Sewing Loft and we thank you for your support!
Hello! Are you new to The Sewing Loft?

If so, I'm glad you stopped by and hope that something has inspired you to keep your needle moving!  Don't miss a single project and subscribe via email HERE! Bonus- free template download with newsletter sign up.  Another great way to connect with me is via Facebook, Pinterest, Instagram, Google+ or Follow along with Bloglovin.  I'm looking forward to getting to know you and creating together!