Did you know that today is National Button Day? If you've got a lot of spare buttons lying around, it's time to dump them out on the table and get inspired! If you don't already own a button tin (or jar, or box, or whatever!), I bet this roundup of DIY button craft projects is going to make you want to start one!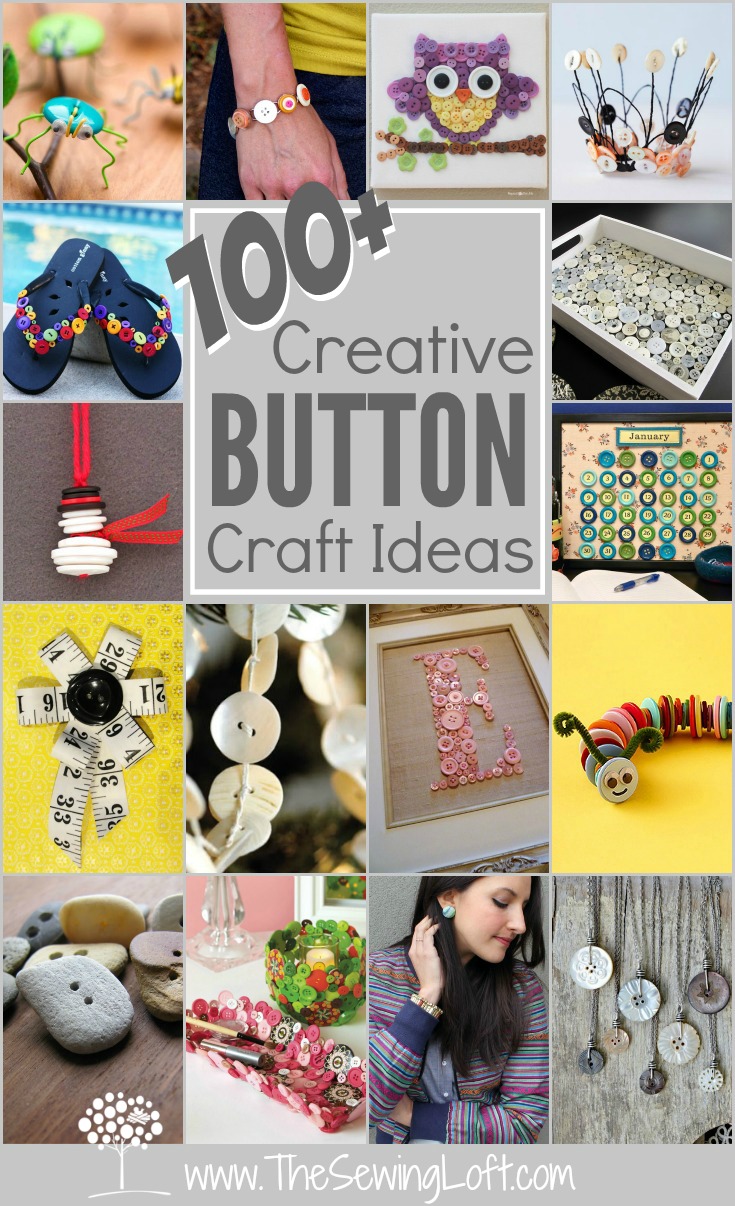 100+ Button Projects
Hurry up and grab Grandma's button box because this list is pretty AH-MAZ-ING! Don't want to miss a project? Be sure to PIN THIS to your favorite board for easy reference.

1. Bracelets
3. Button bracelet – video how to
8. Fabric button brooches such a fun idea!
10. Flip flops
11. Flower pins
12. Hairpins
13. Hair tie
14. Headband
15. Headband 2
16. iPhone case
17. Key ring
18. Layered necklace
21. Pendant
23. Pointed flower
24. Retro necklace
25. Rings
28. Shoes
29. Tape brooch
30. Wire-wrapped button pendant

31. Bowl
32. Bowl & tray
34. Button tray
35. Button tree
36. Cast resin paperweight or coaster
37. Clock
39. Dish towel
43. Fruity button embroidery napkins
44. Magnets
46. Napkin-folded pillow cases
48. Owl art
50. Picture frames
51. Somewhere over the rainbow wall art
53. Tree wall art
54. Yo-yo pillow

55. Animal necklace
56. Bookmark clips
58. Bugs
59. Button art
61. Button snake
62. Caterpillar  
64. Cork owls
65. Pass Pete the Cat
66. Spinning disks
67. Stamp
68. Teaching kids to sew buttons
69. Tea cups
70. Tiara
71. Travel Checkers
74. Wind chime

76. Button wreath
77. Christmas tree garland – just beautiful!
80. Country stars
82. Garland 
83. Gift wrapping with buttons 
84. Holly gift tags
87. Pumpkin
88. Snowflake
89. Snowman
90. Snowman pin
91. Wreath

94. Cover buttons without a kit
95. Dorset buttons

100. Button cookies
101. Giant button garland
Now how is that for a list? I'm sure we could each raid our miscellaneous stash of buttons and create new items with these free project ideas.  Just pick one you like and dig in! Don't forget to PIN THIS free 100 button projects post for easy reference later.

Hello! Are you new here?

Do you want to learn more about sewing? If so, be sure to sign up for our newsletter HERE and never miss a stitch! Daily Sewing Tips, Everyday Projects and Fantastic Inspiration delivered straight to your mailbox!

Bonus– free download with newsletter sign up.

Feel free to connect with me on Facebook, Pinterest, or Instagram.  I look forward to getting to know you and stitching up a storm together!