Halloween is the perfect time to show off your skills. Sure, you could just go to the store and pick up a costume off the rack, but where's the fun in that? I've rounded up over 100 incredibly creative costumes for Halloween that will help you make something fun for every member of your family. Whether you want to keep it simple or go all out, this list has you covered. Happy haunting!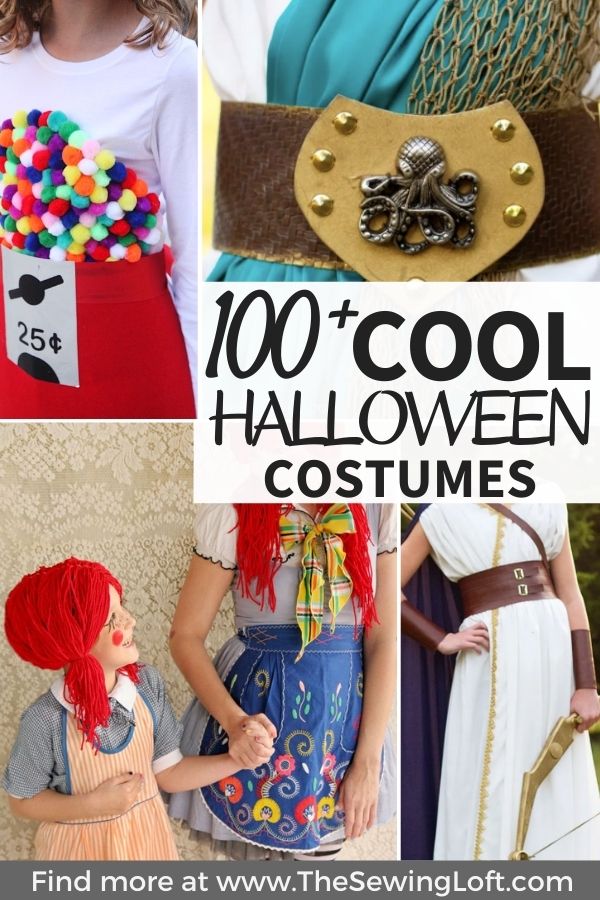 100+ DIY Creative Costumes
The creativity on this list is out of this world. Be sure to PIN THIS post to your Halloween Pinterest board for next year.

Babies look cute on any of the week but when you dress them up in costume it's even sweeter! Check out some of these show stoppers for your little munchkin.
1. Game Boy
3. Hamburger
4. Pineapple
6. Yoda

Halloween costumes for kids can be tricky. Many store-bought costumes are super expensive and honestly, just not as cute. These are game-changers.
8. Pine Cone
9. Bat
10. Baymax
12. Bird video how to
13. Butterfly
14. Candy Corn
15. Ice Cream Cone
16. Clown
17. Crayon
18. Gum Ball Machine
19. Doctor
20. Dorothy pinafore 
21. Dragon great costume!
22. Dwarf & gnome
23. Belle from Beauty and the Beast
24. Fairy costume
25. Werewolf
26. Fox
27. Greek goddess so pretty!
28. Hashtag perfect for anyone
29. Black Cat
30. Poseidon
31. Jellyfish
32. Knight
35. Mermaid 
36. Minecraft Steve
38. Robin
39. Peacock breathtaking!
40. Peter Pan 
41. Olaf
42. Forky
43. Pirate honestly, one of the best I have seen. It even includes the boots!
44. Prince Charming
45. Princess Leia no sew
46. R2D2
47. Pumpkin
48. Sherlock Holmes
49. Skeleton 
50. Squid
51. Toothless 
52. Unicorn hoodie 
53. Viking
55. Yip yip aliens

Did your eyes roll when the Halloween party invitation arrived in your mailbox? If so, I get it. Sometimes we overthink things and get stressed. These costumes are anything but cookie-cutter. You are bound to be the belle of the ball with any of these goodies.
56. Guinevere's gown
57. Hoop skirt
59. Spiderweb skirt
60. The Incredibles
61. Victorian skirt
62. Wolf hoodie
63. Wonder Woman perfect for any age

Let's not forget our four-legged friends this Halloween. Actually, these costumes make me laugh every time. My personal fav is….the taco.
64. Corn dog
65. Sushi
66. Dog taco
67. Dog tutu
68. Dog tux 
69. Eggs and bacon
70. Hostess cupcake
72. Lion dog 
74. Walrus love this!
75. Wonder Woman

Be sure to check out these favorites if a full head to toe get up is not in the cards for you this year.
76. 10 felt masks 
77. Audrey cape
78. Flower Headband
79. Bunny ears hat
80. Rag Doll Wig
83. Fairy wand
85. Gatsby hat
86. Hooded cape
87. Instagram frame this is awesome!
88. Ladybug wings
89. Maleficent horns
91. Mermaid skirt
92. Mini feminine tri-corner hat
93. Mini top hat 
94. Mini witch hat
95. Monster hat
97. Bonnet
98. Superhero masks
99. Viking helmet
100. Witch hat

No Halloween would be complete without the goodie bag to carry all of that loot in!
101. Treat tote bags
102. Trick or treat bags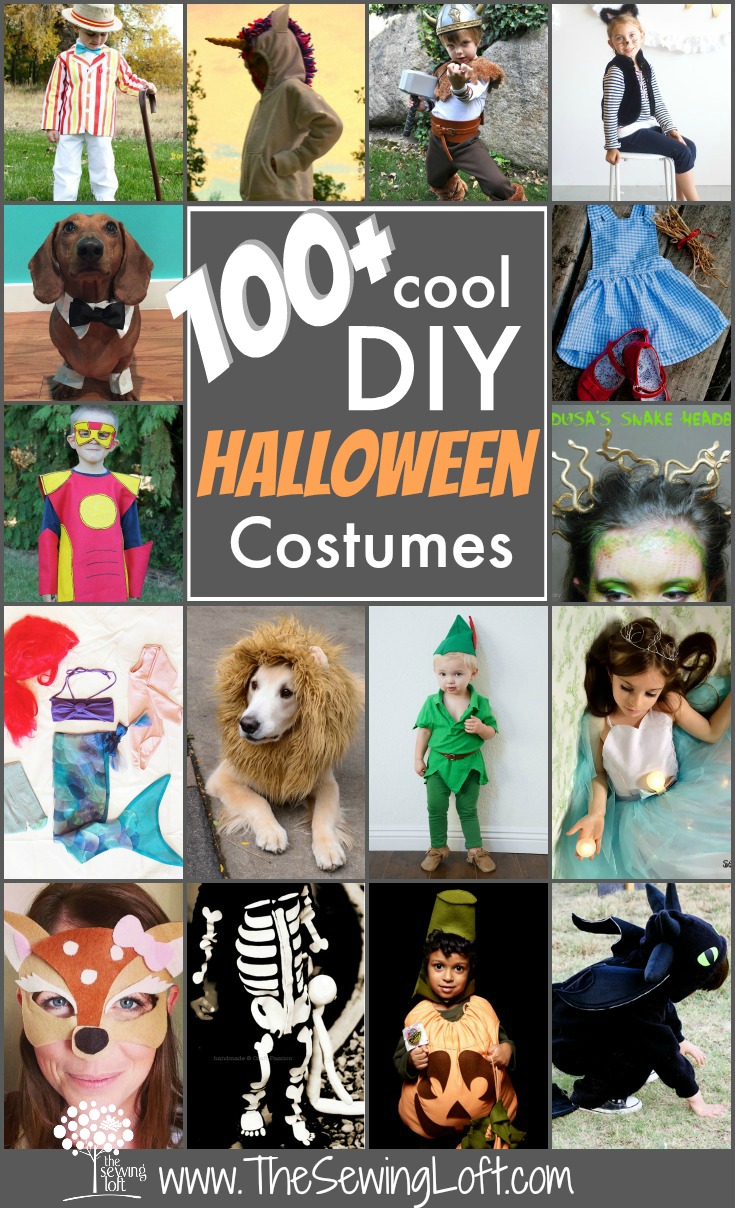 Now, how's that for some creative costumes?  I just knew there were amazing Halloween DIY's out there and I was determined to find them! Every Halloween costume listed is a free pattern and will help you with step by step instructions.  Did I miss one of your favorite DIY Halloween costumes?  If so, leave me a link in the comments and I will be sure to include them on the list.  Don't forget to PIN THIS round-up post for easy reference.