Plushies, stuffies, stuffed toys, loveys – what do you call sweet little toys like these? No matter what name you have for them, they are simply adorable. Best of all, when they're handmade, they become not only fun toys children will love but special keepsakes for years to come too.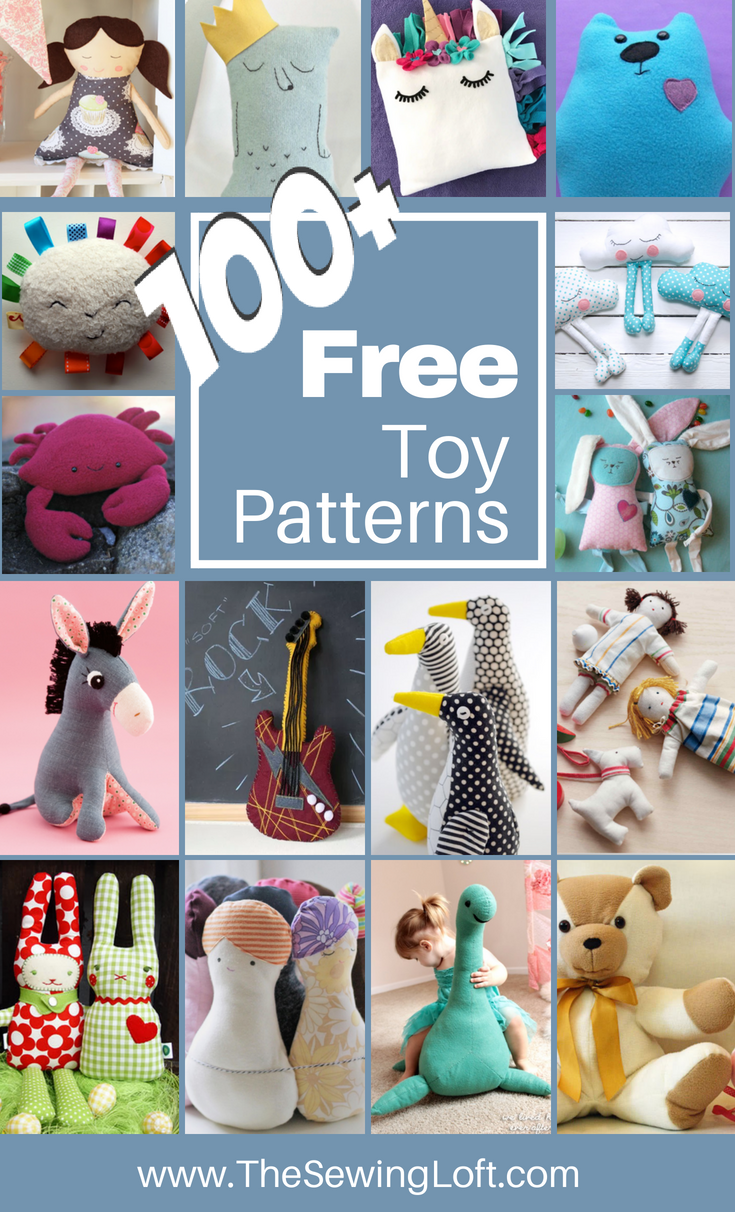 This roundup includes something for everyone. Projects ranging from small to large, beginner to advanced, there is something to please every child (and maybe a few adults) on your list. Some of these are even a great way to use up some of those fabric scraps you have stashed away.


MY LATEST VIDEOS
1. Baby Pip
3. Charity Bear pictured
4. How Joyful Bear pictured
5. Panda
6. Polar Bear  beyond cute!
9. Small Panda

10. Flossie Flamingo – LOVE!
11. Folksy Bird
12. Owl Stuffies
13. Owl Tag Toy
14. Purl Bee Penguin pictured

16. Angry Birds
17. Luma
18. Olaf & Snow Girl
19. Toothless

20. Angel Dolls
21. Black Apple Doll
23. Make-a-Doll – pictured
24. Merry Mermaid
25. Modest Mermaid
26. Peanut Baby   – pictured
28. Tea Towel Doll – pictured
30. Waldorf Doll

31. Animal Softie
32. Cute Monster
33. Monster
34. Narwhale
35. Nessie  pictured
36. Roger Reindeer
37. Summer Travelers

39. Baby Dino
40. Bathrobe Puppy
41. Cuddly Kitten hit the translate button
42. Dinosaur
43. Donkey pictured
44. Elephant
45. Elephant Family  – great instructions
46. Fawn
47. Flying Squirrel
48. Frido the Hound
49. Giraffe – beyond cute!
50. Hedgehog Taggie
51. Humphrey (dog)
52. Kangaroo
53. Molly Monkey
54. Pig
55. Plush Fox
56. Pointy Kitty 
57. Raccoon
58. Recycled Sweater Animal pictured
59. Scotty Dog
60. Snakes
61. Stuffed Fox
62. T-Rex
63. Studio Pup
64. Sweater Kitty

66. Bunny Rag Doll
67. Bunny Softie
68. Cashmere Bunny
69. Chibi Rabbit
70. Easter Bunny
73. Juggling Rabbits
75. Menswear Bunny
77. Revoluzzzionary Easter Bunny pictured

79. Casey the Crab pictured
80. Dolphin
81. Jellyfish
82. Little Fishy – love!
84. Sea Turtle
85. Star Fish
86. Unicorn – adorable!

89. Bat
90. Baby Blocks
91. Baby Sun Ray Toy
92. Beach Ball
93. Cloud Baby pictured
94. Fabric Football
95. Felt Letters
96. Rainbow Sunshine pictured
97. Raindrop Softie
98. Soft Rock Guitar pictured
100. Sunshine Softie

I'm completely smitten with these charming sewing projects. Which one will you make first?

Hello! Are you new here?

Do you want to learn more about sewing? Be sure to sign up for our newsletter HERE and never miss a stitch! Daily Sewing Tips, Everyday Projects and Fantastic Inspiration delivered straight to your mailbox!

Bonus– free download with newsletter sign up.

Feel free to connect with me on Facebook, Pinterest, or Instagram.  I look forward to getting to know you and stitching up a storm together!