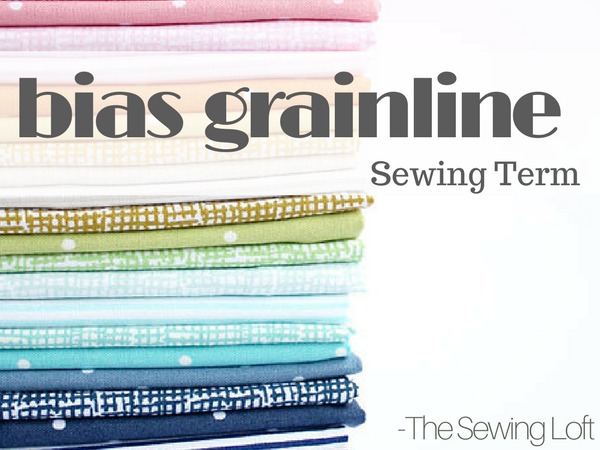 Bias Grainline-
noun
a line diagonal to the grain of a fabric;

especially

:

 a line at a 45 degree angle to the selvage often utilized in the cutting of garments for smoother fit
Fabric cut on the bias has a stretchier and has more of a flowy functionality than fabric cut on the straight grain. Bias-cut fabrics can be useful in garments, though sewing with them is more difficult at times than sewing with straight-cut fabrics. Bias strips are also useful to make binding and hems.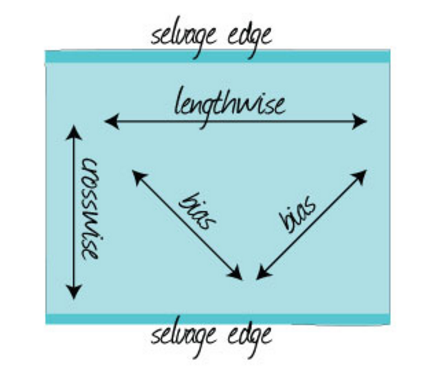 Tips –
 When working on the bias for the first time, you should avoid stripes and plaids that need to be matched and super slinky fabrics, like silk charmeuse or chiffon. For best success, try beginning with a cotton lawn, plain weave linen, or a wool challis.
To ensure accuracy, cut all pattern pieces on a single layer of fabric rather than a fold.
Using a narrow zigzag stitch will allow the stitching to move and stretch in the same way that a bias cut garment would.
Hanging your garment overnight before hemming will allow the fabric to naturally settle. Afterward you can trim any uneven places and achieve an even hem.
Bias Grainline Stats-
What to Make:  Continuous bias tape, circle skirts, camisoles, lingerie, and bias cut dresses are some of the most common items cut on the bias.
When to Use:  When you are cutting bindings to finish off curved necklines, or arm-cyles. Also when you want a garment that is flowy or hangs delicately on the body.

Hello! Are you new here?

Do you want to learn more about sewing? Be sure to sign up for our newsletter HERE and never miss a stitch! Daily Sewing Tips, Everyday Projects and Fantastic Inspiration delivered straight to your mailbox!

Bonus– free download with newsletter sign up.

Feel free to connect with me on Facebook, Pinterest, or Instagram.  I look forward to getting to know you and stitching up a storm together!