I know things have been kinda quiet around here but that's all about to change! Allow me to introduce my new series, Creative Chops to The Sewing Loft.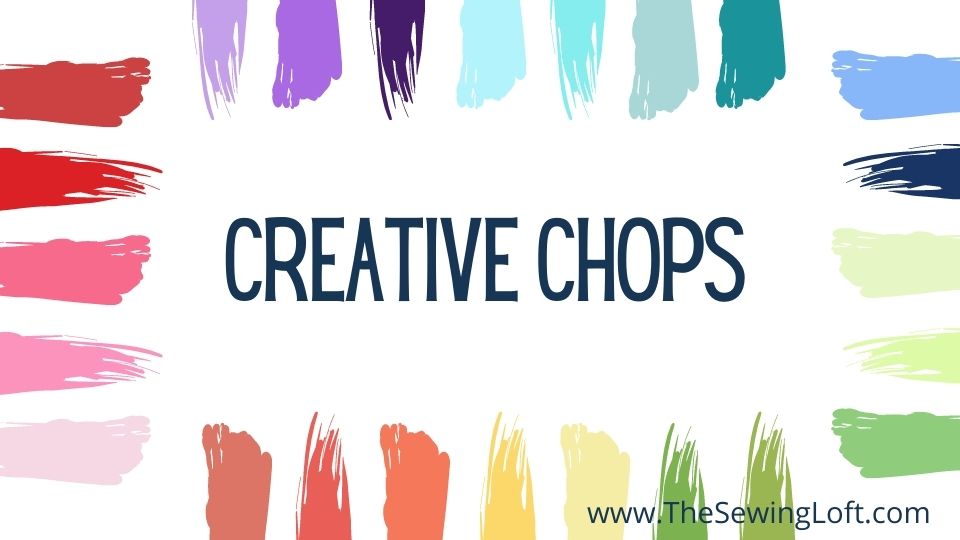 Creative Chops is all about chopping up our colorful fabric scrap bits and turning them into a new quilt. Now, to those sewists that are not quilters at heart, this might sound completely silly. You are most likely thinking why on earth would you want to cut up perfectly good fabric into small bits and then stitch them back together again.
Well, the answer is simple… Because we can! Lol, no seriously, these types of quilts create the most amazing designs while making the most of our small leftover fabric pieces from other projects.
So, let's dive in and chat about what you can expect.
Creative Chops Details
Each month, we will tackle our scrap stash in style. Working in rainbow order, this series is bound to inspire you to finally conquer your growing pile of scraps with purpose.
Designs will include:
Color themed designs that can also be made using multiple colors.
All designs are offered free to download for a limited time.
Coloring sheets, cutting and step-by-step instructions are included.
Each design will utilize a 2 1/2″ square.
Quilt patterns are offered in a lapsize format.
Fat quarter yardage calculation included.
Not a quilter but interested in learning? Well, you are in the right place! This playful series is perfect for even the novice quilter. Each month we will learn something new and I promise to help you stretch your skills while learning new techniques along the way.
To help improve your skills, we will cover so many things including; quilting terms, matching seams, press directions, how to audition colors, and sew much more. So, grab your seatbelt and buckle up because we are about to get started!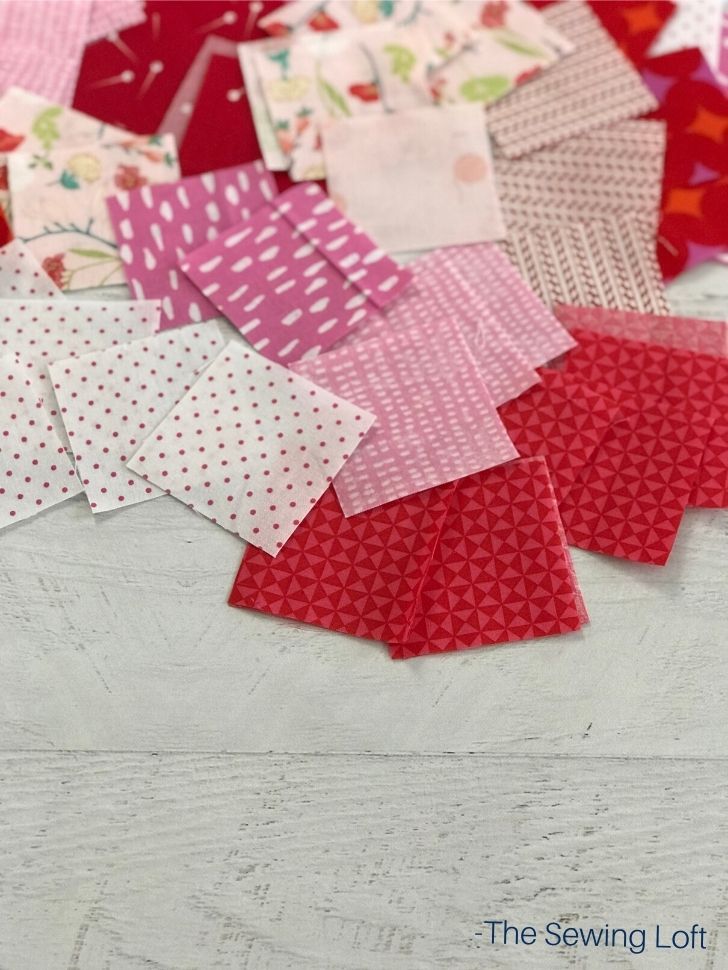 Starting tomorrow we will be working in ROY-G-BIV order, which is also known as rainbow order. That means we are kicking off the fun with all sorts of red shades. Here is a quick peek at my pile of red squares.
It is surprising how much working in shades of color can help train your eye. It will help you learn how to weed out shades that do not work well together. Over time, you will notice your skills improve and find that you begin to challenge your color pallet in new ways.
Come join the fun!
Now, there is no fee to join but I want to be upfront and share, like most things in life, all good things come to an end. More specifically, each pattern will be offered free for one month after the release date. After that, it will be offered for full price in my shop and printed in my standard postcard format for little quilt shops to carry.
Creative Chops is a sew at your own pace quilt along. I do not require you to sign-up and you will see me sharing on social media as we sew. That's right, each month I'll be sewing along with you because my scraps are growing like Gremlins and not the cute Gizmo kind.
To make things easy for folks to find the patterns as we work, I will be sure to share links on this page. So be sure to bookmark this page for easy finding throughout the year.
Yellow
Green
Blue
Indigo
Violet
Neutrals
I suggest you sign up for my newsletter here so you don't miss any patterns along the way!

ps- I'll also be chatting about all things Creative Chops each month in my Scrap Happy Community here. Feel free to come join me! There you can share pictures, status updates and ask questions.