We are kicking off the new year with our first SWAP, the assorted scrap bag! SWAP's are one of my favorite things to do with a new friend and when I kicked off my first one in 2016, I had no idea how popular they would become. Each year we exchange more handmade goodness than the year before and my swaps span many countries. I just love that I can bring folks together from all over the map.
But with all of us spending more time at home it seemed that there was a greater desire for more. So many of you reached out last year asking when the next one would be. So, I'm happy to report that I have 4 of them scheduled for this year. Now, depending on how things go, I can always add in an extra SWAP or two but for now, I'll keep things simple and will commit to these.
Since you know that I always want your input, I put together a quick poll in my Scrappy Facebook group, and boy, you did not disappoint! What started off as a few suggestions from me quickly turned into 30 SWAP ideas. To keep it fun for all, I am pulling from the most popular on the list. *Click here to see all of the suggestions and feel free to cast your vote for the next one.
Now for those of you who are new to SWAP's or have never participated in one of mine before, have no fear, this is easy and I am here to help. Here are a few things to keep in mind during the SWAP:
Keep an eye on your inbox.
Be sure to reach out to your new sewing buddy.
Don't forget to ship on time.
Above all, just have fun!
Scrap Bag SWAP Details:
WHAT/SIZE: Every participant will put together and receive a 1-gallon size bag filled with assorted scraps. The colors and prints included in the bag are "Maker's choice" and can be anything that you think your partner would enjoy and use. Scraps should be cotton quilting quality, no smaller than 2″ x 4″ and no larger than a fat quarter. Be sure to stuff the bag full and closed before shipping.
WHEN: Sign Up's are happening NOW through January 15th, 2022, or earlier.* All packages must be shipped to partners by February 25th, 2022.
WHERE: Everywhere! My SWAP events are open to everyone. Our goal is to pair participants with a partner in their general area to keep shipping costs low.
WHO: All fabric scrap lovers and stitchers are welcome! Please remember when joining any swap, your partner may have a different skill level and color assortment than you do.
Price: $5 per SWAP. This question comes up often and I want to clarify this right upfront. Running a SWAP of this size and caliber requires a tremendous amount of effort behind the screen. Events like this require many hours of organizing, emailing, and following up with participants. Not to mention being a SWAP Angel when a partner falls out at the last minute. This is the reason for the small fee.
*Space is limited and the event will likely sell out.
Scrappy Fabric Group: As many of you know fostering community is very important to me. To help encourage this atmosphere, I have formed a private Facebook community to chat directly with you and offer a safe space for everyone to get together. Inside the group, you can share projects you are working on or have finished, meet and get to know the members from around the world, share inspiration, and participate in additional group activities. Everything is in one spot- simple and easy to use on your computer or smartphone. Please feel free to click the link to join the community. All are welcome!
Here is how the SWAP will work:
The Scrap Bag SWAP is open for sign-ups until January 15th, 2022.* After checking out, you will receive an email questionnaire to help me pair you with the perfect sewing buddy. Then I'll be digging in with my team and getting to work partnering you with the perfect sewing buddy. All participants will receive an email with their partner information by the end of the day, January 21st, 2022.
Once you have your partner's information, I suggest that you drop them an email to get to know them better. It is customary to send a little gift along with your swap package. Consider sending something handmade, a sweet treat, a freshly stitched quilt block, or even just a little note card. This should not be cost-prohibitive and is just an act of kindness that I am sure will be much appreciated by your partner!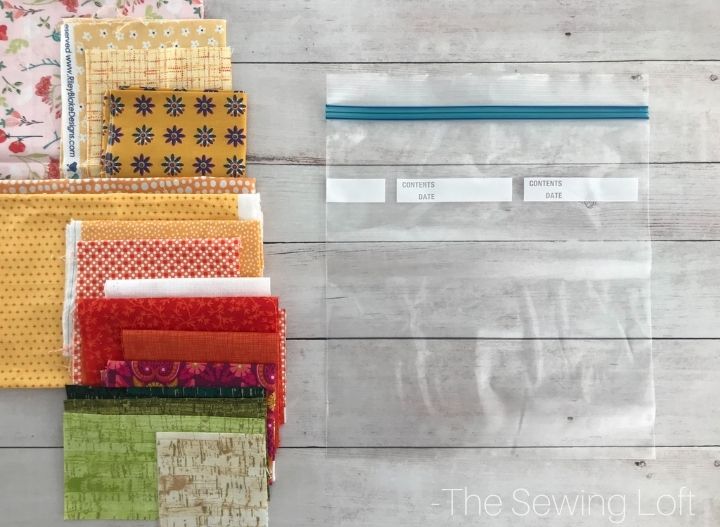 With your partner's information in hand, it is time to start sorting your scraps and filling that bag. The bag should be a standard 1-gallon sealable bag. For anyone outside of the USA, these bags have a fillable area of approximately 11″ squared. Bag vary in measurements based on the brand so just be sure to check the box for gallon size.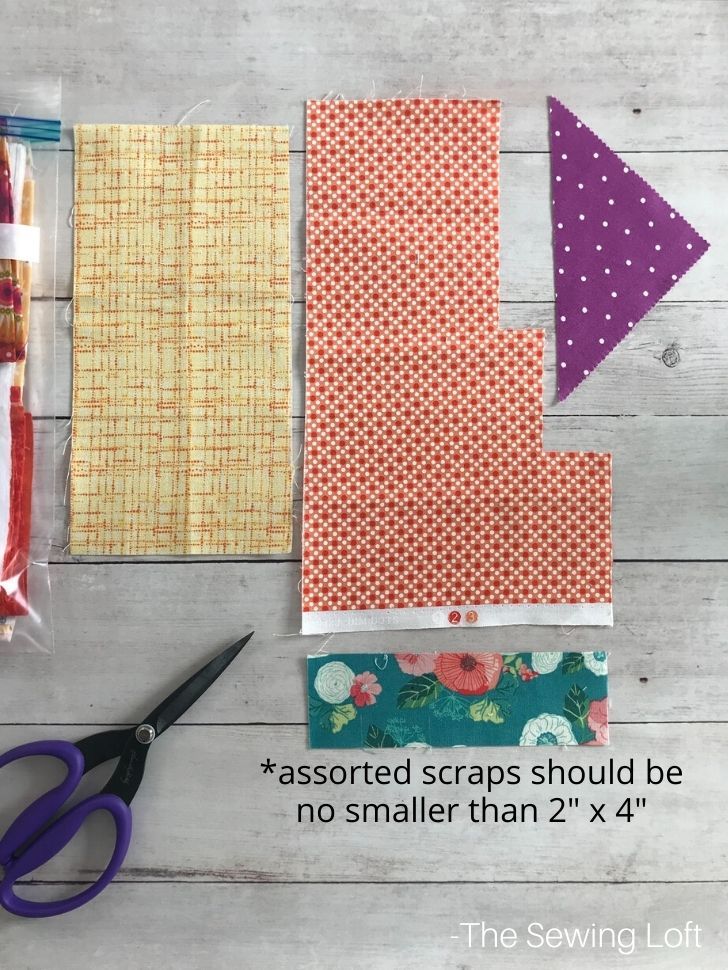 Then it's all about the scraps. Select a wide assortment of floors and prints from your stash. It is understood that scraps will not be uniform in shape or size. However, these scraps need to be useable and not considered "crumbs" or full width of fabric. Keep sizing in mind and refer to the above photo if you have any questions.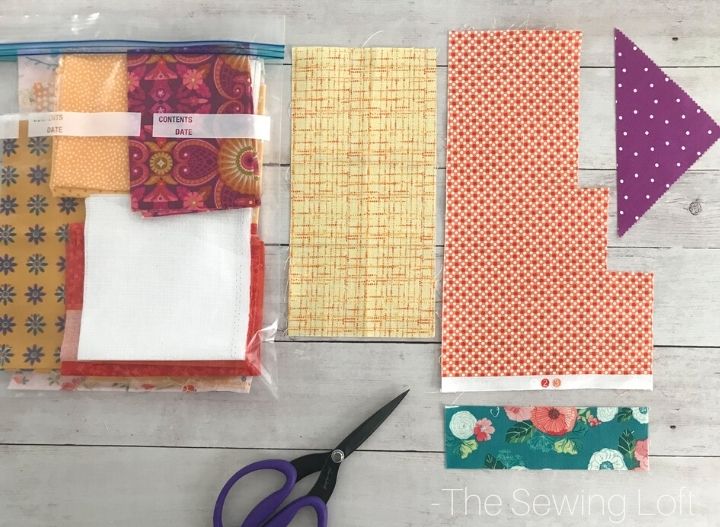 You can see that I am starting to fill my bag here. While not required, lightly pressing your scraps before placing them inside the bag would be nice. This simple act will help reduce wrinkles and be wonderful to receive. I suggest communicating with your partner to learn about their fabric likes and dislikes.
If you have never joined a SWAP before I have a great article on SWAP Etiquette and how they work. In the meantime, remember my Scrappy Girls Club Community is always open. Feel free to stop by anytime to chat with other members and share how you are using your scraps! You can share any time during the day, we are always open.
Please remember that SWAP's like this are all about having fun. No one is putting your work under a microscope. Instead, I just ask that you take pride in your offering by trimming off any loose threads and think about how the person receiving this special package will feel when opening it.
Why should you be part of "the Scrap Bag SWAP"?
Who doesn't love meeting a new friend and opening up a bag of mystery fabrics?! When joining the Scrap Bag SWAP, you will not only be exchanging an assorted bag of scrap fabrics to make something new with but you will be partnered with a sewing buddy that shares your passion, understands your need for fabric, and totally cringes when cutting into their favorite fabric. Basically, someone who "get's it"!
This is a swap that fits your schedule, has members who are passionate about sewing, and gets you excited about starting your next great project.
I encourage you to keep in touch with your new sewing buddy after our packages have been exchanged and welcome you to join our private Facebook group here. Inside the group, you can upload pictures, ask questions, and meet other members. If Instagram is more your speed, be sure to share your projects & happy mail using the hashtag #SewingLoftSWAP2022 you can follow on Instagram here.
Come join the fun with me and Scrappy Crew!
Still, have a few questions? Leave me a note in the comment section and I will reply shortly.
I can't wait to meet my new partner and see what everyone makes!
ps- Sharing is caring! Feel free to grab and share the SWAP button! Let your sewing & quilting friends know what you are up too and invite your friends to join the fun. I just ask that you please link to this page so that they can find it easily.