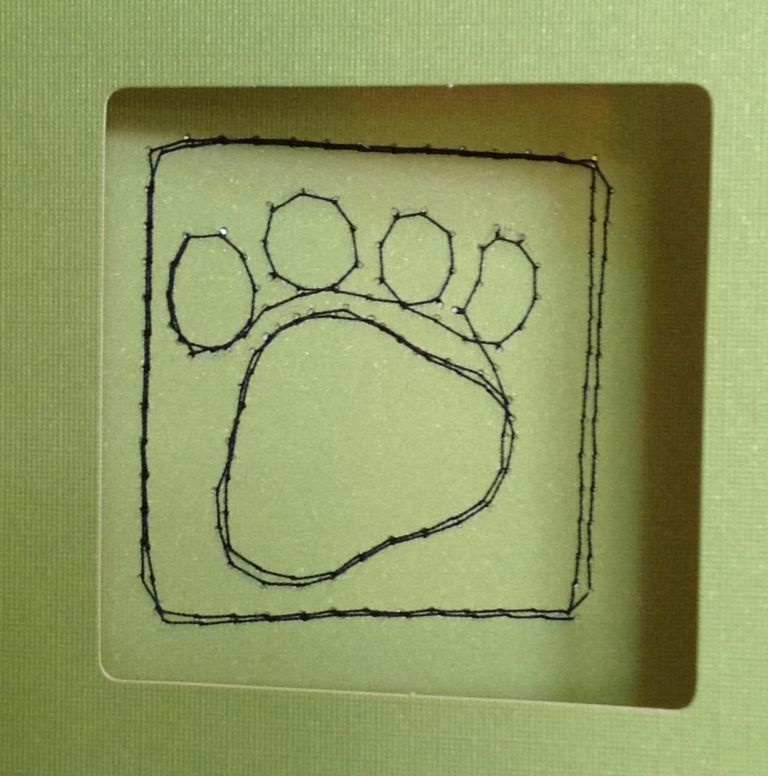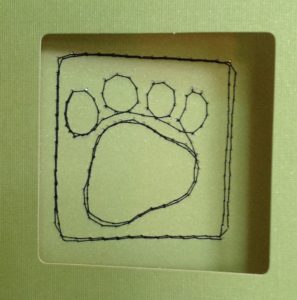 Hello dear readers of The Sewing Loft.  It's your faithful friend, TJ Goerlitz from Studio Mailbox welcoming you to the first Friday in August where I make my regularly scheduled stop attempting to bring a little creative fun and humor to your lives.  It's been awhile since we had a nice long chat because last month landed on the 4th of July.  As you might recall this year I've been on a mission to explore sewing kindness, and this month I'd like to focus on our hostess with the mostess, Heather Valentine, and the recent loss of her beloved French bulldog Chewie.
I don't know about where you are but in Minnesota it's been jungle hot here, with the kind of humidity that makes you wilt.  In between these horrible heat waves have been storms that have kept the kids inside and the dogs pacing and cowering from the thunderbolts.  As my German shorthair, Lucky, flips out with every crack of the sky I can't help but think of Heather and the space that Chewie has left by leaving us way too soon.
I've always thought they should make pet sympathy cards.  God knows these four legged creatures come into our lives and attach to us just as closely as people do.  Some of us, (myself included), are completely surprised by this.  One minute I'm irritated by the dog hair that's embedded in my rug and the next minute I am home early on a Saturday night making out with him.  Who are these beasts we call canines?  These creatures who cost us a fortune of time, money, and energy yet repay us until we are indebted with their unconditional love and loyalty?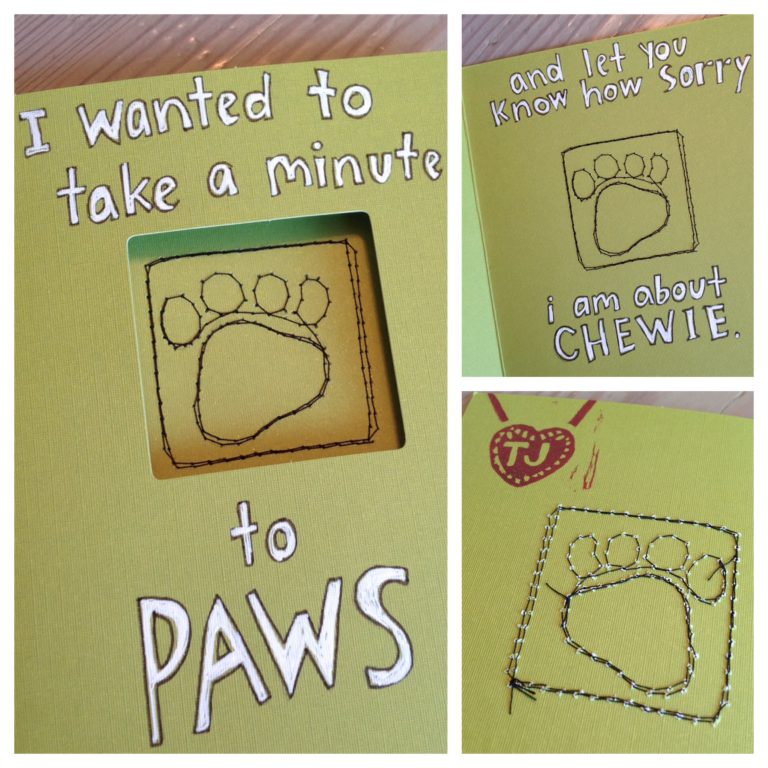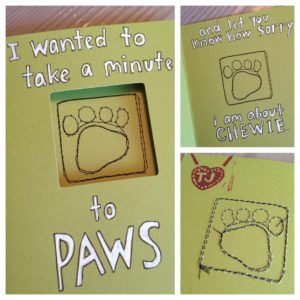 Losing a dog is a horrible eventuality for so many of us.  I thought that maybe this month I could share my homemade version of a pet sympathy card.  Maybe you know someone who's going through this same loss and can take a minute to be inspired and create a loving, handmade gesture for them.  Don't panic.  I hope you guys aren't thinking, here goes TJ, trying to put the 'fun' back in funeral.  I think I've shown great restraint by only using one pun.  One little pun to help the dog owner smile through the pain. And of course you can alter the text to suit yourself if you don't like "a minute to paws" when you're letting them know how sorry you are about Rover.
Basically all I did was use a blank card that already had a window in it.  (I love this format because then the backside of your sewing ends up on the backside of the card).  I sketched a paw print in the window and then went to my machine and slowly followed the lines.  I made sure I moved from one paw pad to the next at the bottom of the circles so the thread wouldn't make a weird line at the top.  Then I planned out my text and penciled that in before going over it with a permanent black pen.  Lastly, I filled in the letters with my trusty white Uni-ball Signo.  It's one of my favorite pens and what I consider the best white pen on the market.
Heather and I got our dogs at the same time.  We have commiserated numerous times over the phone over the adjustments that took place in our lives in order to accommodate these poochies.  She freaked the time I found a sewing pin on Lucky's tongue and commended me for the ingenious dog pillow I made from an old set of curtains.  Even though I never met Chewie, I miss him already and had to make something in his memory.  May he rest in peace.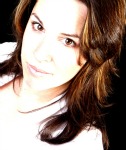 TJ Goerlitz is a mixed media artist who pretends to be a seamstress whenever possible.  Come connect with her on her site, Studio Mailbox,  in Facebook or in Pinterest.  Join her on the first Friday of every month where she shares her latest sewing tales with the readers of The Sewing Loft.