Do you have a difficult time tossing out small bits of fabric scraps? I do! So, instead of tossing them in the trash, I collect them in a basket. I just let the basket fill up until it overflows and then it is time to create something fun.  And let me just say, this basket gets quite a workout!
My project today is a real fabric scrap buster!  I am going to show you how to take those fabric scraps and create usable yardage.  This is so simple and really creates a fun, shabby chic patchwork look.
Fabric Scraps Yardage Technique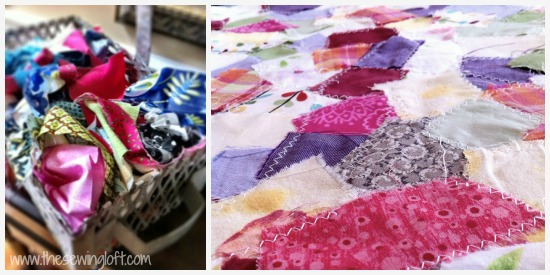 This project is for all levels.
Skill Level- 1 Button
Materials:
Tools:
iron/board
pressing cloth
sewing machine/thread
Basic Instructions:
Start with pressed scraps. Clip fabric every 1 1/2″ and rip them into strips. Then rip again into smaller sections.  I like to work with a variety of sizes ranging from 1″ to 2 1/2″.  My shapes are not perfect and I do not make them all square.
Working in small sections, position, and layer your fabric scraps onto fusible to create a visual pattern.  You will need to overlap your fabric pieces to cover the entire piece of fusible.  *Pellon 906F Fusible Sheerweight is perfect for this technique.  It provides a lightweight and flexible foundation for your finished fabric.  The scraps are positions on the "bumpy" side of the fusible.
Once you are happy with the outlook, cover the fabric scraps with pressing cloth and press them onto fusible. Repeat the process until you have covered the entire piece of fusible.  It is okay if not every inch of scrap is attached to the fusible, you will secure them in the next step.
Using a zig-zag stitch, it is time to secure the fabric scraps in place. *I like to reduce the overall size of my stitch for this step but that is a personal preference. Starting at one corner of the fabric, stitch along the edge of scraps. Continue stitching along outside edges. For me, this is the fun part and is just like playing connect the dots.  I like to see how many bits of fabric I can stitch in one pass.  It is mindless work and perfect for a rainy day.
A few notes on this:
It is important to follow the manufactures instructions for heat setting.
Scraps are placed on the "bumpy" side of the fusible. The bumps are the adhesive.
DO NOT iron directly onto the fabric scraps for fusible.  If there is any surface of the fusible not covered by a scrap the fusible will melt to your iron.  You will have a MESS!
Be sure to use the pressing cloth.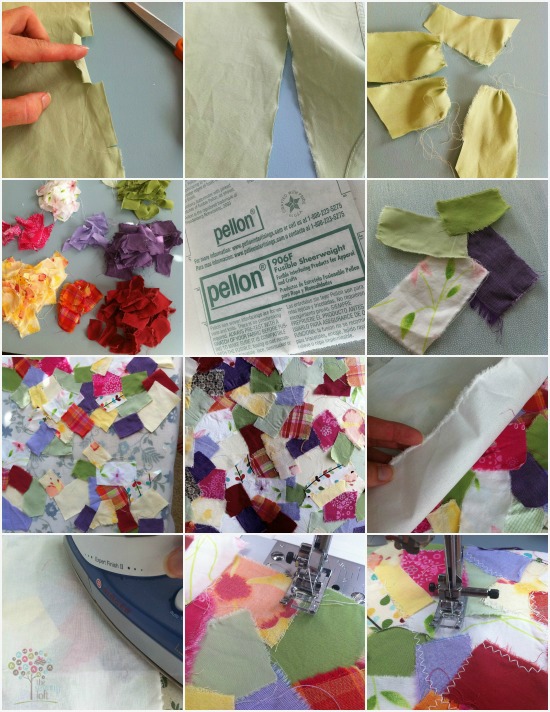 I just love creating something fun and usable from all those little bits of fabric.  Here are a few examples of the fabric used in past projects.

Ollie the Owl, Backpack, Gift Card Holder
And if you are looking for more scrap busters, be sure to check out the birdie magnets, quilted tree ornaments, and fabric postcards.
ps- don't forget, there is still time to join the Sweet Swap! But hurry, time is ticking to sign up. *This event is now closed.