Lately, I am finding myself being pulled over to the quilting world and I must say, I'm totally enjoying it! So, for those of you like me who are new to this area of sewing, I thought I would round up some amazing quilt blocks to get you started!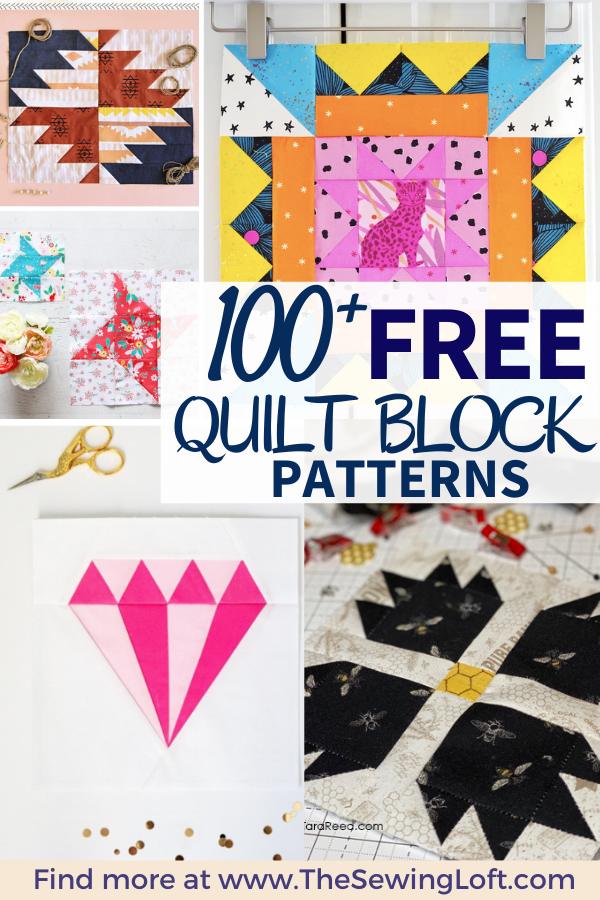 100+ Quilt Blocks
Remember, all quilt blocks listed below are free to download. Be sure to PIN THIS list to refer to over and over.

1. Block House
2. Diamond
3. Maple Leaf
4. Dog House
6. Flamingo
7. Herringbone
10. Mushroom
13. Pineapple Block
14. Sleeveless Dress
15. Santa Gnome and Holiday Tree – love these colors

18. Modern Tree
19. Shoo Fly
20. Friendship Star
22. Triangle Star
23. Whirlwind
25. Scrap Jar Stars pictured
27. Stacks & Stacks
28. String X
29. Sun Rays

30. Trick or Treat
31. 3-D Block
32. 3-D Bowtie
33. 3-D Pinwheel
34. 4-Patch Slice endless options
35. Arrows
37. Bear Paw
38. Aztec Block
39. Patchwork Apple
40. Comforts of Home
41. Cranky 9-Patch
42. Curved Block
43. Disappearing 9-Patch love the colors she used!
45. Dresden Peppermint Pinwheet
46. Dresden Plate
47. Easy "H"
48. Easy Pinwheels
49. Easy Weathervane
50. Sunburst
51. Flying Geese
52. Fool's Square
53. Frippery Block

54. Garden Fence
55. Grecian Square
56. Hexagon Flower
57. Desert Flower
58. Hourglass
60. Popsicle Party
61. Log Cabin
62. Maple Leaves
64. Pinwheel Disappearing 4-Patch
66. Quilting Made Simple blocks
68. Santa Face
69. Scrappy Hearts
70. Semi Simple Drunkard's Path
71. Scrappy Acorn
72. Gnome
73. Shoo Fly
74. Shooting Squares
76. Sweet Heart
77. Hashtag
78. Mini Heart
79. Square in Square
80. Double Hourglass
81. Wonky House Perfect for clearing out the scrap basket! (paper pieced)
83. Wonky Block Great for making in batches
84. Woven Blocks
85. Woven Chevron
86. Wonky Pinwheels just beautiful!

87. Nova Star
88. Friendship Star
89. No Points Star
90. Hunter's Star paper pieced
91. Christmas Star paper pieced
92. Night and Day paper pieced
93. Ohio Star
94. Paper Pieced Star paper pieced
95. Labyrinth
96. Sedona's Star paper pieced
97. Starflower Block
98. Star Petal paper pieced
99. Rolling Star paper pieced
100. Friendship Star
101. Wonky Star
*Stars lend themselves to paper piecing due to their intricacy.

How to Square Up a Quilt Block
Paperless Paper Piecing Tutorial
Still want more? How about updating your library with my All-Access Pass? These whimsical quilt patterns will have you stitching up a storm and clearing out your fabric stash!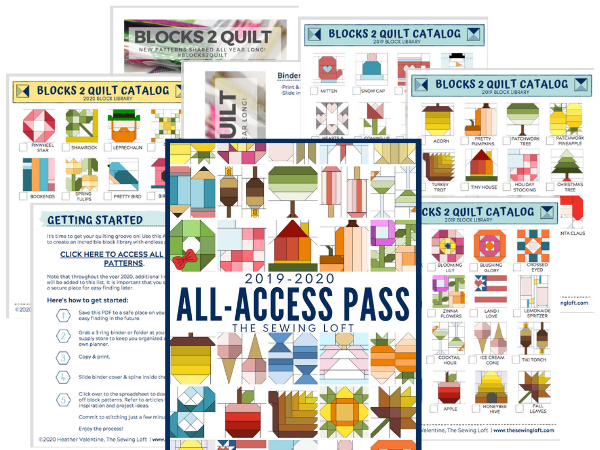 Honestly, this list is only the beginning! I could probably create 3 or more lists just like this and still wouldn't scratch the surface of the wide assortment of amazing free quilt blocks available today. But I'm willing to try if you leave me a note in the comments below!
ps- Don't forget to PIN THIS for easy reference!